Exclusive
NeNe Leakes Glee-fully Waiting In The Wings For Jane Lynch To Leave McKinley High School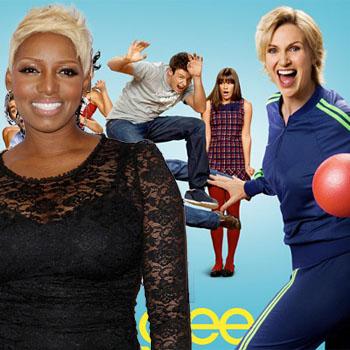 NeNe Leakes, who plays a high school swim instructor opposite Jane Lynch's cruel cheerleader coach on Glee, is hoping the Emmy-winning star of the hit FOX musical comedy doesn't renew her contract, RadarOnline.com has exclusively learned.
Gleeks everywhere rejoiced on April 9 when the network announced they were renewing the popular series for a fourth season.
But doubt has remained about the future of 52-year-old Jane Lynch's character Sue Sylvester, who took responsibility for a terrifying school shooting, which ultimately cost her her job.
Article continues below advertisement
"While Jane is still negotiating the terms of her contract, NeNe has made it known that if Jane doesn't come back it could only mean her role would expand," an insider on the show told Radar.
"It was an awkward statement for her to make, but it's true because Ryan Murphy, the show's creator, simply adores her. You've got to hand it to NeNe – she may be blunt, but she's honest."
In an interview with ABC News on Tuesday, Lynch said as far as she knew, "I'm still in."
But doubt about her future on the program has lingered in Hollywood's television circles.
Said our source: "Jane was kind of hoping the series would bow out quietly before it really jumped the shark."
Leakes, 45, who has parlayed her 15 minutes of reality show fame into one of Donald Trump's Celebrity Apprentice and a recurring role on sitcom The New Normal, joined the talented staff at William McKinley High School as Roz Washington in 2012.
Article continues below advertisement
Famous for her in-you-face argument with former Atlanta housewife Sheree Whitfield last year that made "I am rich, b*tch" an internet catch phrase sensation, Leakes is now hoping to cash in if Lynch decides to flee Glee.
"If Jane doesn't come back for season 4 NeNe's confidant she'll get more air time and that means a bigger pay day for her," added the insider.
"To use NeNe's own words, she'll still be a b*tch, but a richer one."
Lynch has been on the show since it premiered in 2009.