Mike Tyson On Painful Incident Of His Past — My Ex-Girlfriend Cooked & Ate One Of My Pigeons!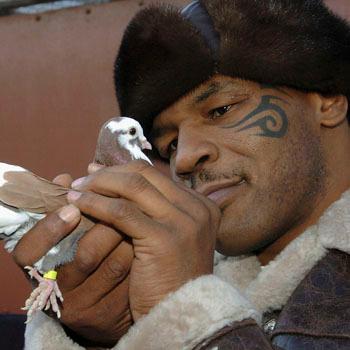 Mike Tyson has nothing against people consuming poultry, but don't expect the boxer to eat one of his beloved pigeons.
During an interview on sports talk-radio show Boomer & Carton, the famous fighter and sometimes movie star opened up about a traumatic incident of his past, which involved a former girlfriend cooking up one of his favorite birds and eating it right in front of him – and RadarOnline.com has the details.
Article continues below advertisement
When asked by the host if he had ever grubbed on one of his pets, he admitted that it almost happened once.
"I tried," he explained. "I was dating this young lady and she said, 'I don't know why you're flying those damn birds, you should be eating them.' . . . She happened to grab one and — and she cooked one and proceeded to eat it. And I just couldn't do it."
"You loved that pigeon so much," host Craig Carton responded.
"Well, 'cause he's got a relationship with the pigeons," Boomer Esiason, the other host, interjected.
"It just wasn't the right thing to do," Tyson added. "That's why she's not my woman anymore."
To see photos of other celebrities and their totally bizarre pets, click here.