Exclusive
Michael Jackson's Siblings Learning Arabic To Get Closer To Billionaire Brother-In-Law – Reading Arabic For Dummies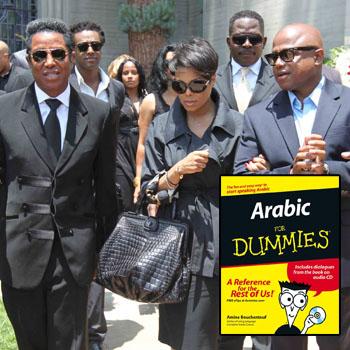 Michael Jackson's family members have picked up copies of Arabic for Dummies in order to get closer to Janet Jackson's Muslim husband Wissam Al Mana, RadarOniline.com is exclusively reporting.
"When Janet married a billionaire businessman from the Middle East some of her family members took notice," a source close the music clan told Radar. "Jermaine, who converted to Islam years ago, was the first one to welcome his new brother-in-law and was quick to inform the family that the best way to get to know Wissam's family was to learn their language.
Article continues below advertisement
"Jermaine purchased copies of Arabic for Dummies and handed them out to his brothers Jackie, Tito, Marlon and Randy, his sisters LaToya and Rebbie and his parents. While father Joe was all for it Katherine scoffed at the idea at first. She finally came around and agreed to learn a few phrases, but Katherine made it clear, for her, 'it was just to be polite.'"
Janet, 46, reportedly converted to Islam in order to marry the Qatari-born retail entrepreneur who she secretly wed in 2012.
While the entire family was raised as a Jehovah's Witness by their devout matriarch, Jermaine, after a trip to Bahrain in 1989, converted to Islam.
Earlier this year Jermaine, 58, legally changed his last name from Jackson to Jacksun, stating "artistic reasons" for the puzzling switch.
Jermaine, who married Halima Rashid, a wealthy Afghan native in 2004, is the ringleader in the family's "Arabic as a second language" sessions, the source says
"Jermaine already speaks Arabic so he's become the go to tutor for the others," adds the source. "Janet thinks it's hilarious because Wissam speaks perfect English. Jermaine says he has no hidden agenda, he simply wants better communication."