Madonna Fires Back At Malawi President For 'Spreading Lies' About Her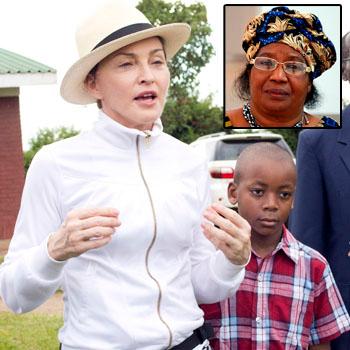 Madonna has hit back at Malawi President Joyce Banda's claims that the pop superstar is "bullying state officials," RadarOnline.com reports.
The Girl Gone Wild singer was said to be furious that she didn't get VIP treatment at the airport when she visited the African nation. In fact, she and her staff had to line up with other passengers to be frisked by security before entering the country!
And head of state, Ms. Banda said that Madonna, 54, was "bullying state officials" and expecting the the country and its people "to be forever chained to the obligation of gratitude" for building schools for underprivileged kids.
Article continues below advertisement
On Thursday, Madonna, who launched the Raising Malawi charity building ten schools in the country, posted a photo with a message to Ms. Banda.
She wrote: "President Banda stop spreading lies about me! I'm trying to help the children of Malawi! Here I am standing in front of one of 10 schools I built with Build On in Malawi! Lies have no legs. Only the truth can stand!"
Madonna's statement came after Banda's government accused her of arriving in the country unannounced and It was also alleged that Madonna was demanding gratitude for adopting David Banda and Mercy James, both seven, from the country.
"Granted, Madonna has adopted two children from Malawi. According to the record, this gesture was humanitarian and of her accord. It therefore comes across as strange and depressing that for a humanitarian act, prompted only by her, Madonna wants Malawi to be forever chained to the obligation of gratitude," a statement issued Wednesday by the president's office, State House, in the capital, Lilongwe said.
Article continues below advertisement
Banda's government also said that English soccer star Rio Ferdinand, U2 singer Bono and action movie star Chuck Norris have shown better manners than Madonna.
It told a newspaper: "If the argument is that because she is an internationally renowned star, Madonna believes she deserved to be treated differently from other visiting foreigners, it is worth making her aware that Malawi has hosted many international stars, including Chuck Norris, Bono, David James, Rio Ferdinand and Gary Neville who have never demanded state attention or decorum despite their equally dazzling stature."
Madonna's philanthropic advisor, Trevor Neilson believes that Banda is holding a grudge against the star because she fired the President's sister as head of Raising Malawi on suspicion of theft.
He also told the BBC: "Madonna is the largest individual philanthropist in Malawi. We will continue to fund programs that support children in Malawi."