Papa Don't Preach! Madonna's 17-Year-Old Daughter Tells Her Overprotective Dad To Back Off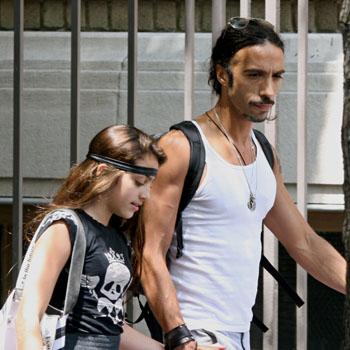 Madonna and her baby daddy, Carlos Leon, are not on the same page when it comes to their teenage daughter Lourdes' love-life, RadarOnline.com has learned.
The Material Girl's look-a-like offspring has been dating Homeland actor and fellow LaGuardia High School of Music & Art & Performing Arts student Timothée Chalamet, but Lourdes' parents are polar opposites when it comes to parenting, a source revealed.
Article continues below advertisement
"You would think Madonna was the stricter parent, but she's actually loosened the reigns because she trusts Lourdes so much," a source close to Leon said.
"On the other hand, Carlos is the watchful dad who's laid down some very stern ground rules for his precious daughter.
"Madonna was the villain because she was very firm when it came to school studies and manners early on, but that's changed as Lourdes has matured.
"Now she secretly gets a kick out of it when Lourdes complains to her about the curfew her dad's imposed and all the embarrassing questions he asks her and Timothee.
"For a change Madonna is not the mean parent!"
Madonna, 54, who's previously been married to actor Sean Penn and director Guy Richie, met Carlos, 46, in the 1990's and gave birth to her first child in 1996.
The 'Like a Virgin' singer also has a son Rocco, 13, from her marriage to Richie and two adopted children, David 8, and Mercy, 7.
Lourdes and Timothee seem to be getting serious.
The young lovers were recently photographed in New York's Soho district holding hands and hugging and at one point they sweetly switched jackets with each other.
"Carlos trust Lourdes and he likes Timothee, but he also knows how young boys can get carried away," added the source.
"He's old school and he thinks putting a little fear into the boy dating your daughter is a good thing. Madonna just thinks it's hilarious."