Kelly Osbourne All Smiles Amid Sharon & Ozzy Split Reports, Brother Jack Cries 'Bull****'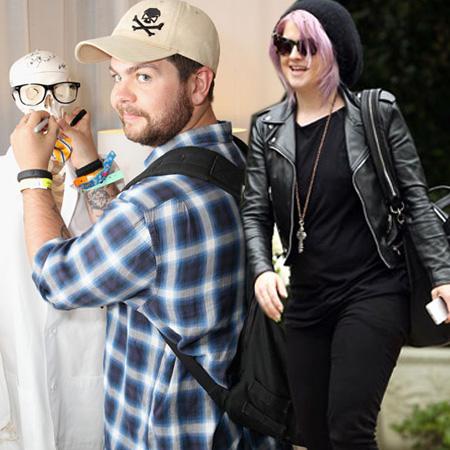 Kelly Osbourne put on a brave face – in fact, she was smiling widely – as she left dad Ozzy's Beverly Hills mansion on Sunday afternoon, amid reports that her parents are splitting up after 31-years of marriage, and RadarOnline.com has the pics.
Osbourne, 28, had morale support with her during with visit – she was accompanied by her boyfriend, vegan chef Matthew Mosshart.
On the same day Kelly was photographed leaving Ozzy's home, her brother Jack was photographed — also smiling — at Lacoste Live's 4th annual Desert Pool Party in Thermal, CA. as part of Coachella Valley's Art & Musical Festival. Despite looking as if he was having a good time there, Jack still took to Twitter Sunday to angrily blast the stories, writing, "…it's all bullsh*t. Last time I check a lot of British news papers weren't amazing sources of accurate information. Moving on…"
Article continues below advertisement
As RadarOnline.com previously reported, stories first came to light this past weekend that Sharon and Ozzy have been living separate lives, and we've learned from numerous sources that The Talk host is staying at the Beverly Hills Hotel, while her rocker husband is in a nearby rented mansion.
RadarOnline.com was among the first to break the news Saturday that the Osbournes have been living separate lives for weeks. We now know Sharon has been at the famed Pink Palace at least since the beginning of April.
The long-time couple is reportedly in the early stages of a separation.
A source told UK's The Sun, '"They are living at different addresses and are not spending any time together. They row a lot.
"They aren't acting like husband and wife. It is unusual to not even have dinner together when both of them are five minutes apart," the insider added.
Neither Sharon or Ozzy has issued a statement on the reported split, but both recently have been seen without their wedding rings.