Justin Bieber Said What?!? Hoped Anne Frank 'Would Have Been A Belieber'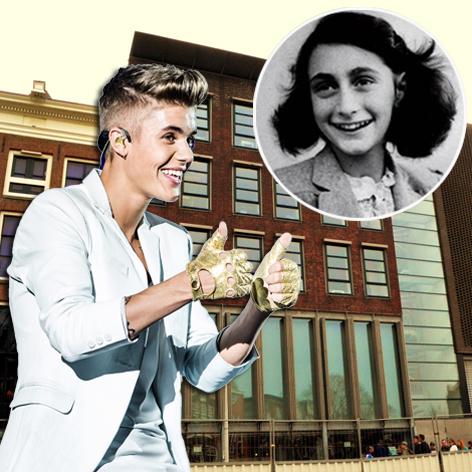 If only those darn Nazis hadn't gotten in the way! In Amsterdam on the European leg of his world tour, Justin Bieber and his entourage made a stop at the Anne Frank House.
One of the most acclaimed victims of the Holocaust, Frank died in 1945 at the age of 15, leaving behind a diary that was later published under the title, The Diary of a Young Girl.
At first glance, it appeared that Bieber's visit to the house where Frank and her family hid from the Nazis was an effort to educate himself, perhaps learn a bit of important history.
Article continues below advertisement
No such luck.
According to the Facebook page for the museum:
"Yesterday night Justin Bieber visited the Anne Frank House, together with his friends and guards. Fans were waiting outside to see a glimpse of him. He stayed more than an hour in the museum. In our guestbook he wrote: 'Truly inspiring to be able to come here. Anne was a great girl. Hopefully she would have been a belieber.'
Tonight Bieber will give a concert in Arnhem in the Netherlands."
Anne Frank - a Belieber!
Other visitors to the historical site, reacted strongly. (Tell us what you think on Radar's Facebook page.)
"She would've been a WHAT? That little idiot is way too full of himself. She's an important historical figure so show some respect," wrote one.
"Glad he went,but, the last sentence is VERY self serving. he missed the lessons of Anne totally," wrote another.
A rep for Bieber had no comment on the situation.
But one source familiar with the situation said Bieber's actions are not nearly as insensitive as they appear. "In the time he spent at the museum he had been told that Anne Frank posted photos of celebrities from her time on her wall. So that was the context of why he wrote what he did."
Do you agree? Sound off on Radar's Facebook page.