Meet The Lawyer Who Defends America's Most Notorious Killers -- Will Boston Bomber Dzhokhar Tsarnaev Be Her Next Client?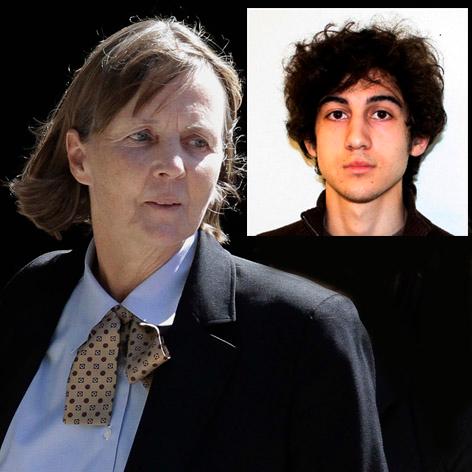 Her client list is a who's who of America's most despised mass murderers and now attorney Judy Clarke may be adding Dzhokhar Tsarnaev to that resume.
Clarke, who never does interviews and is known to be somewhat reclusive between cased, opened up Friday about her infamous death penalty defenses.
Death penalty cases are different because the clients are different, said Clarke during a presentation at L.A.'s Loyola Law School.
Article continues below advertisement
"Most have suffered from serious severe trauma, unbelievable trauma. We know that from brain research. Many suffer from severe cognitive development issues that affect the core of their being."
The people she was speaking about include Susan Smith, who drowned her two children in 1994, Unibomber Theodore Kaczynski whose campaign against modern technology left three dead and 23 injured, anti-abortion terrorist bomber Eric Rudolph, responsible for two deaths and 150 injuries, and Tucson shooter Jared Loughner, who has pleaded guilty to 19 counts of murder.
All were death penalty cases and all are now spending life in prison instead of visiting the gas chamber because they had Clarke defending them.
Representing Smith 18 years ago caused her to be "sucked into the black hole, the vortex" of death penalty cases, Clarke, now a visiting professor at Washington and Lee University School of Law, said.
"I got a dose of understanding human behavior and I learned what the death penalty does to us. I don't think it is a secret that I oppose the death penalty."
Clarke declined to take questions from her enthralled audience but many legal experts are predicting she'll be by Tsarnaev's side as he starts his way through the legal system.
Death penalty clients are different, she reiterated.
"We should enjoy the opportunity to step into their lives. It can be chaotic but it's a privilege to be there as a lawyer."