Anti-Drug House Speaker John Boehner's Daughter Marrying A Rastafarian With A Pot Arrest Past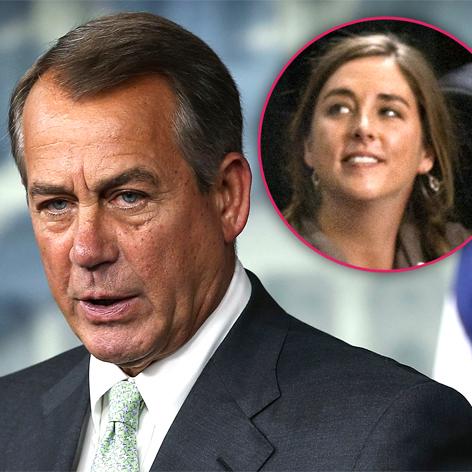 John Boehner may not be happy about his future son-in-law's past run-ins with the law, especially because they have to do with drugs!
The U.S. House Speaker's daughter Lindsay is getting ready to walk down the aisle with her Jamaican fiancé, Dominic Lakhan, but what her anti-drug daddy may not know, is that he has a pot past, The National Enquirer is reporting exclusively in this week's issue.
According to a police report obtained by the magazine, Lakhan, a 38-year-old construction worker, was pulled over for a traffic violation in Pembroke Pines back in 2006, where they discovered not only an opened can of Natural Lite beer, but also smelled "the odor of burnt cannabis emitting from the interior of the vehicle."
Article continues below advertisement
"A search of the vehicle revealed two bags containing approximately 2 grams cannabis…inside the center of the ashtray. Suspect admitted to the possession of the cannabis, stating that it was for personal use."
He was arrested and charged with misdemeanor pot possession.
For more details on John Boehner's future son-in-law's drug scandal, pick up the latest issue of The National Enquirer, on newsstands Thursday.