Exclusive
This Is No Joke: Jerry Seinfeld Sued Over 'Little Fat' Housekeeper, Other Celebrities Targeted By Disgruntled Ex-Aide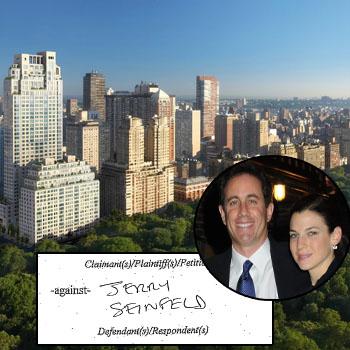 A New York aide-to-the-stars is targeting Manhattan's rich and elite — including Jerry Seinfeld and actress Lucy Liu — by exposing what supposedly goes on inside their multi-million dollar homes.
Adrian Smith, a self-described "domestic broker to the stars" who has hired staff members for Robert DeNiro and Mariah Carey, has filed two small claims lawsuits against Seinfeld and his wife Jessica alleging that a member of their personal staff referred to a potential maid as a "little fat" and another as being too old.
Article continues below advertisement
Subpoenas in the case were sent to the Seinfelds late last year.
EXCLUSIVE DOCUMENTS: Read The Subpoenas
But it all could be a concerted shakedown of some of New York's most famous faces, multiple sources familiar with Smith have revealed to RadarOnline.com.
Indeed, they point to his pattern of similar behavior: in 2011, the British-born man was convicted in the State Supreme Court in Manhattan of harassment after he threatened Tania Higgins, the wife of a successful hedge fund magnate, when she turned down his suggestion of a maid.
"I will have a really great laugh when I see your house crumble," Smith ranted in a voice mail message to Higgins in September, 2010, according to evidence presented in the case.
He also charged: "I will have my revenge."
Still, the Seinfelds have been compelled to appear before Manhattan Judge Peter H. Moulton in June to explain themselves against the claims.
In an affidavit filed in court under the penalty of perjury, Smith alleged that he coordinated interviews for the ex-Seinfeld star with three possible housekeepers to work at his Central Park West apartment.
Article continues below advertisement
But it all apparently soured when a member of Seinfeld's personal entourage advised him the first candidate -- whom Smith claimed had just finished working for De Niro -- "was too old even though she is only in her mid 40's."
It was suggested a second candidate would get approval because she was "attractive and younger."
"I was taken aback by his comments regarding her age and attractiveness," Smith wrote in the affidavit, signed on Aug. 23 last year.
"The third candidate... he stated was quote, 'The best housekeeper he had ever interviewed.' However he could not send her to Mr and Mrs Seinfeld.
"When I asked him why, he then delivered these dreadful quotes: 'She is not cute enough and she's a little fat and you must realize that both Jerry and Jessica (Seinfeld) work out almost two hours daily and they are obsessed with how they look and who they have around them.'"
Article continues below advertisement
The Seinfeld procurer allegedly added: "It's not me, it's the order I have. Pity, if only she was cuter, but she's kinda ugly."
According to the affidavit, the Seinfeld's representative added: "We could have her lose weight, but we could not change her looks. Do you not have anyone good looking, even if they have no experience. I'll train them, just as long as they look good."
"I could not believe what I had heard," Smith wrote, in a statement to the court.
"I told him he was out of line to say what he said and he became defensive and again repeated that it was not him, it was Jerry and Jessica Seinfeld. He indicated that it was all their fault."
A source close to the Seinfelds told RadarOnline.com that Smith's claims were not true.
"He's going after a lot of people and is representing himself," the insider said. "He's blasting anyone and everyone on Twitter. That will give you a sense about his motivation."
Article continues below advertisement
However, Smith insisted he was not lying and said he wanted justice.
"Personally, this is not about money. This is about the injustice of how the rich treat their staff," he told RadarOnline.com.
In addition to Seinfeld, Smith has his sights on Elementary star Liu and her hedge fund tycoon boyfriend Noam Gottesman, whom he alleges fired the staff at their West Village townhouse because of their race.
As for the claims that he is a serial litigant, Smith told RadarOnline.com: "I never threatened anyone, especially Tania Higgins. Nor was the argument about the hiring of a maid. I do not target anyone. That sounds like a marksman. Plus, I do not shake-down anyone. That is absurd."