Baby Bumps And Lingerie! Jenna Dewan Tatum Flaunts Her Burgeoning Belly In Just A Bra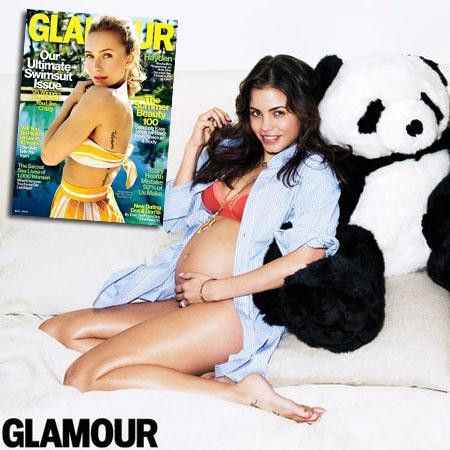 Talk about a sexy maternity fashion shoot!
Channing Tatum's wife Jenna Dewan proudly strips down and flaunts her baby bump wearing just a bra and an unbuttoned blouse in the May 2013 issue of Glamour – and RadarOnline.com has the photos.
The Step Up star, who is expecting her first child with the Hollywood heartthrob this spring, was certainly not bashful about her pregnancy body during the photo shoot, also modeling a pair of unzipped jeans with a tied-up white t-shirt as well as a skintight ribbed dress.
Article continues below advertisement
"I thought my body was going to change so quickly with pregnancy that I'd freak out," she reveals. "But it was really gradual. There's a reason women are pregnant for nine months; by the end, you're ready to have this baby."
Dewan-Tatum, 32, also gushes about how supportive her Magic Mike husband has been.
"Channing has been great. He takes the route of no confrontation, just support, saying things like, 'Do whatever you want! What do you want to eat? I'm going to leave it up to you.'"
As for their parenting plan, she admits that they are just playing it by ear.
"Who knows what kind of parents we'll be? We have two dogs, so we've had some practice!" she says. "And as soon as this baby comes into the world, Channing and I will figure it out real fast."
For more on Jenna Dewan-Tatum, pick up the May 2013 issue of Glamour.