Exclusive
Janet Jackson's Muslim Husband Had Steamy Love Affair With Former Stripper/Playboy Playmate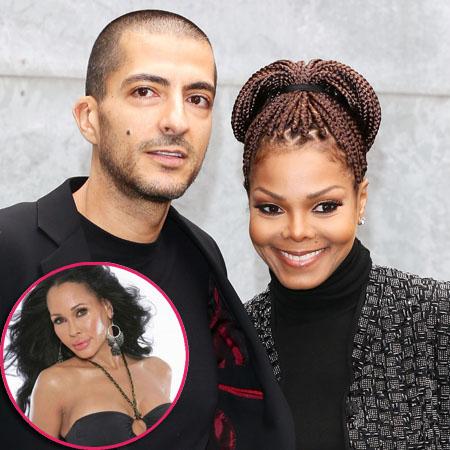 Pop Star Janet Jackson may have to cover up her body for new billionaire husband, Wissam Al Mana, after reportedly converting to Islam, but that was never the case for Wissam's former flame – a stripper and Playboy Playmate, RadarOnline.com has learned exclusively.
The notoriously private Control singer secretly married the Qatari-born retail entrepreneur during a hush-hush ceremony in 2012.
Since, the 46-year-old Grammy winner has been photographed on numerous occasions wearing traditional Muslim women's clothing – a black jilbab (a long, loose-fitting garment) and a black hijab (head scarf).
Article continues below advertisement
Oh, how times have changed for Wissam's women!
Sexpot Gwen Rogers, a well-known Washington, D.C. based stripper and nude model – she graced the pages of Playboy five times including the Women of Washington issue in 1988 -- confirmed exclusively to RadarOnline.com that she dated Wissam, who she met when he was a student at George Washington University.
"Yes, Wissam and I dated. He was a great guy, very private," Gwen said in an exclusive interview.
"I met him when he was a student. He was very religious. I wish him and Janet all the best and that's all I want to say about him."
Gwen was just as shocked as the rest of the world when she heard the news that her ex-lover had married the Rhythm Nation singer.
On April 7 Gwen wrote on her Facebook page:
"BREAKING NEWS: I just hears on the radio that Janet Jackson DID concert to Islam...after marrying one of my ex-boyfriends... Wissam Almana."
Article continues below advertisement
The buxom brunette -- she's a 36DD -- made headlines in 2004 when graphic, X-rated photos of her and season 6 Bachelor Byron Velvick surfaced on the internet.
Velvick unceremoniously broke off his eight-month relationship with the single mom to star on ABC's The Bachelor.
Wissam, 37, one of the richest retail investors in the Middle East, is a shareholder in the Saks Fifth Avenue stores in Dubai, Doha, Bahrain and Kuwait as well as running the family's fashion empire, Al Mann Retail Group.
According to sources, Wissam may be a grown man and married now, but his devout, close-knit family won't be pleased when they learn about his past relationship with a woman like Gwen.
"There's not a lot out there about Wissam because he was very careful about keeping his personal life private," a source told RadarOnline.com.
"Gwen may be a nice lady, but the fact that Wissam even had a relationship with a woman like that is not going to sit right with his family.
"It's a skeleton in his closet that Wissam thought would never be revealed -- Janet will even be shocked."
This is Jackson's second secret marriage. She secretly married Rene Elizondo Jr. in 1991, the couple separated in 1999.