Ireland Baldwin: 'I Don't Want To Be Forever Known As That Rude Thoughtless Little Pig'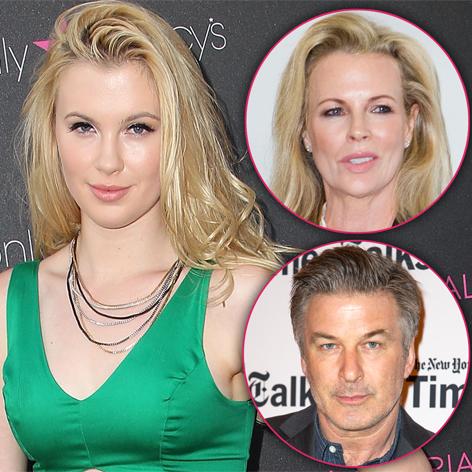 Ireland Baldwin strikes an imposing figure at 6'2, but the 17-year-old daughter of Alec Baldwin and Kim Basinger, says she has feelings too, and she doesn't want to be forever known as "that rude thoughtless little pig" -- a name her dad regrettably called her six years ago during a voice mail rant.
In an open letter on her Tumblr, Ireland says she gets "many hateful emails, Twitter replies, and comments on gossip websites about me and my parents."
Article continues below advertisement
She goes on to write: "I know what most of you are thinking. 'Ireland, just ignore it. There are always going to be haters out there. Quit being so sensitive.' Yes, you are all correct. Someone out there is always going to have terrible things to say about you, no matter how good of a person you truly are! This I am very aware of. But what I am here to address goes beyond that. Of course I get those comments about how I am too fat to model, how I am not model material, how I am an unattractive girl, how I am too tall, etc. I understand. I don't look as glamorous as Rosie Huntington Whitely when leaving the gym. I'm actually really sweaty. Like really sweaty. I understand that I am not a size .008."
The aspiring model goes on to ask, "What I don't fully understand, is what is the good in commenting on a photo of a 17 year old girl and calling her fat, ugly, etc? Is that helping you in some way? I'm confused. I know girls tend to have nasty things to say about other girls and judging the looks of other girls is only human of us all, but putting that out there is hateful and unhealthy. If you don't have a complimentary thing to say about someone, keep it to yourself..."
Article continues below advertisement
Ireland goes on to say she tries to see the beauty in everyone -- even the haters, who criticize her decision to model.
"It's bad energy being put out there! Personally, I try to see the beauty in everyone. It's there. Every girl out there has a beautiful feature. I even see the beauty in the people who send me hateful replies!
"I apologize to some of you that my decision to try modeling is bothering you so much. I wanted to get a feel for it. This opportunity arose, so I took it. I'm meeting incredible people, I'm traveling, and most of all, building my confidence. Modeling can really help you see yourself in a different light," she writes.
"I have battled many different struggles with self-esteem and body image issues. Modeling can really help you feel beautiful! I also get compared to my Mom quite a bit and this is where I bridge into the point of this whole post. I AM NOT MY PARENTS. My mom is one of the most beautiful woman in the world. She is 5'9, I am 6'2. She is petite and fragile, and I am fit and…. more to love tehe. I have a booty, she has a thigh gap. As she emerged from her teen years, she developed an angular face and striking cheekbones. I am still a teen making my way out of my awkward phase. I am still trying to figure this whole thing out," she adds.
Article continues below advertisement
Ireland also writes in defense of her famous parents, who divorced in 2002 after nine years of marriage.
"Just like almost all of you, my Dad has made some mistakes in the past. He has spoken out of place, he has let his temper get the best of him, and he has reacted towards things in ways he shouldn't have. I get hateful replies and threats regarding mistakes of my Dad's past. This isn't fair. I had nothing to do with anything that happened back then, so I don't fully understand why I am being targeted. More importantly, my Dad has moved on. He recognized that he needed to change, so he made changes. He is now healthy, happily married with a baby on the way. He moved on, so why can't you? I have entered the social media world and the entertainment business to make a name for myself. Like I have also mentioned on my Twitter page, I am not seeking fame by association. I do not want to be simply known as a model. I am proud to be my parents' daughter, but I don't want to forever be known as "that rude thoughtless little pig" or "Alec Baldwin and Kim Basinger's kid."
Ireland ends her open letter by inviting people to get to know her, saying, "Talk to me! I am friendly. I do not think I am better than anyone. Thank you for all who read this! I love those who are supporting me on my journey!"
Be sure to follow us on Facebook and tweet us @Radar_Online.