Exclusive
Gabriel Aubry 'Happy For Halle Berry & Not Concerned She Might Try To Move Their Daughter To France'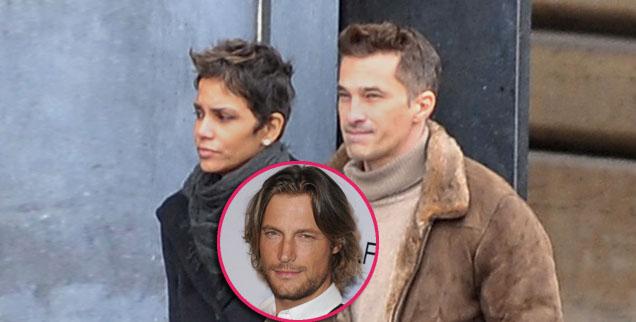 Halle Berry's ex boyfriend, Gabriel Aubry, the baby daddy to her 5-year-old daughter, Nahla, is very happy that the Academy Award winning actress is three months pregnant with fiancé Olivier Martinez's baby and isn't concerned that she will try to move to France with their little girl, RadarOnline.com is exclusively reporting.
"Gabe knew that Halle had been trying to get pregnant for a very long time, and Nahla is very excited to become a big sister. Seeing Nahla happy is all that matters to Gabe," a source told RadarOnline.com exclusively.
Article continues below advertisement
"Nahla will be starting kindergarten in the fall, and Halle and Gabe are in the process of selecting a private school for her. Gabe isn't concerned that Halle will try and move to France with Nahla because she got shut down in the custody trial. The judge made it clear, Halle can move wherever she wants, but Nahla stays in Los Angeles where Gabe lives and has been raised. Gabe doesn't think Halle will try it again, but would absolutely fight any attempt to move Nahla out of Southern California," the insider added.
The Canadian model "has been a doting dad to Nahla, and has joint custody of her. Gabe knows that Olivier loves his daughter, and isn't worried about her feeling left out when her little brother arrives later this year. Halle and Olivier can raise their son wherever they want, but Nahla stays in Los Angeles, with her dad, end of discussion," the source added.
Just last Friday, Berry confirmed she was pregnant – a week after RadarOnline.com published photos of the actress suspiciously hiding her belly while on vacation in Hawaii.
"This has been the biggest surprise of my life, to tell you the truth. Thought I was kind of past the point where this could be a reality for me. So it's been a big surprise and the most wonderful," The Call star told CNN Monday.
When asked Berry if she's expecting a boy, as some media outlets have reported, the Oscar winner said, "I don't know, I don't know. But the baby is healthy!"
This will be the 46-year-old's second child and her first with her French actor beau.