Hanky Panky! Fred Stoller Dishes On Sex With Kathy Griffin: She Begged To Hit Me In The Face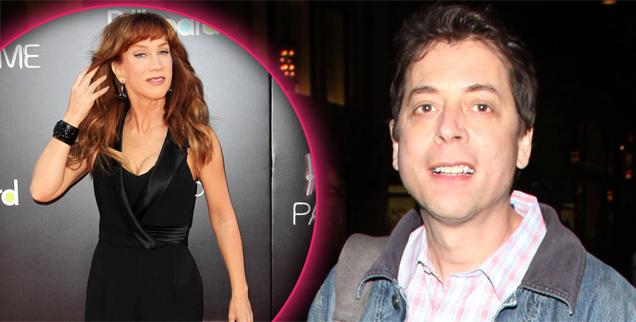 Fred Stoller is kissing and telling about his 1992 romp in the sack with Kathy Griffin!
In his new book, Maybe We'll Have Your Back: The Life of a Perennial TV Guest Star, the actor opens up about his shocking sexual encounter with the fiery haired comedienne and reveals that she begged him to let her punch him in the face while they were in bed – and RadarOnline.com has the details.
After bonding with Griffin at a party, his Suddenly Susan costar who he had gone out on a few dates with years before, Stoller explains that he showed up at her apartment the next night for a date.
Article continues below advertisement
"We stood there not even two minutes deciding what we should do, when she announced, 'I'm wet,'" he wrote.
"Hearing that made it seem appropriate to make a pass at that moment. I suppose I wasn't that good in bed, because after we slept together, she kept pestering me to allow her to hit me in the face."
He continued, "Apparently she had just seen a TV movie about a woman who battered her husband, which gave her a craving to do the same."
When he asked her why she wanted to do that, her response shocked him.
"I have hostility towards men. They rape, watch porn, and go to strip clubs," she explained.
"I only do two out of three of those," he responded. "We lay together peacefully for a few moments until she yelled, 'Stop looking at my a**!'"