Exclusive
Toddler Tussle! Eden Wood's Mom 'Disgusted' By Honey Boo Boo & Family, Calls Them 'Vomit Inducing,' Claims Author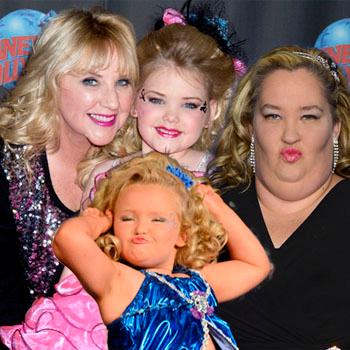 There was a time when Toddlers & Tiaras star Eden Wood reigned the pageant circuit, then she retired and along came Honey Boo Boo.
Even though Eden picked up her own reality show, Eden's World, on Logo TV the toddler's former manager, Heather Ryan claims in her newly released tell-all book that Eden's mother, Mickie Wood, was insanely jealous of Honey Boo Boo and her mom June Shannon's success on TLC, calling the family "vomit inducing," and RadarOnline.com has all the exclusive details.
Article continues below advertisement
"The red neck pageant kid from Georgia and her overweight family are everything that Mickie hated — hated about herself, hated about the persona of pageant moms and hated about ugly, overweight hillbillies," Heather wrote in a chapter of her book called The Honey Boo Boo Boom.
"Mickie was disgusted by the woman and her family's less than stellar appearance. I mean disgusted — to the point where she would lament for hours about how vomit inducing the Shannon family was."
While Eden's show on Logo did little for her fame and fortune, Honey Boo Boo's career and pocketbook exploded via TLC and the family soon became a household name.
"I'm pretty sure I heard a loud, distinctive BOOM from Taylor, Arkansas s Mickie Wood's head exploded," Heather wrote of the Here Comes Honey Boo Boo's premiere episode that aired in August 2012.
"The TLC spin off became an enormous success and suddenly the chubby little pageant girl, who had never won so much as a 'Queen' title, kicked our ass in the ratings and popularity with her own train wreck television show."
As RadarOnline.com was first to report, Heather parted ways with Eden and Mickie after their show wasn't picked up for a second season and spills all the juicy behind-the-scenes secrets about the duo in her new tell-all book.