Coco's Famous Dogs Act Like Ice-T & Try To 'Impress' The Ladies!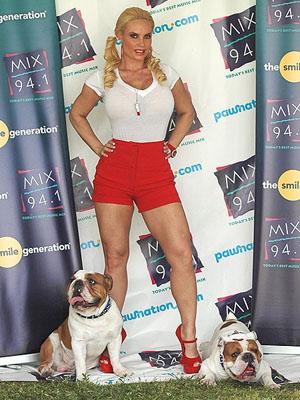 Even Ice-T's dogs are as cool as their owner!
Ice-T's wife, Coco, has revealed that their two bulldogs, Spartacus and Maximus, take after their Law & Order SVU star dad.
And the adorable pooches try to act cool around other dogs to "impress the b*tches," Coco joked!
The bodacious beauty attended the 14th annual Pet a Palooza in Las Vegas last weekend, which was sponsored by Mix 94.1 and Pawnation.com.
Article continues below advertisement
Coco happily posed for photos with fans and said their bulldogs get their famous attitude from Ice.
The duo try to "impress the b*tches," but are really just young pups, their proud mama told fans.
The Bulldogs have grown up on television screen as cast members of Coco and Ice's E! show and even think the boom microphones used by the crew are toys, she revealed.
And true to form, both Spartacus and Maximus thought equipment from a video crew from Paw Nation were toys and kept jumping on the microphone and biting it.
The 34-year-old, who has been hitting the gym hard in Las Vegas where she has been performing in Peepshow at Planet Hollywood, attributes her newly toned figure and mind-blowing 38DD-24-40 measurements to "heavy weights, squats & dedication."
The reality star also revealed at the event the positive reaction she has been getting from fans about her stage show Peepshow.