Exclusive
'Buckwild' Star Shain Gandee: 'World Lost An Awesome Country Boy' Says Pal Courtland Rogers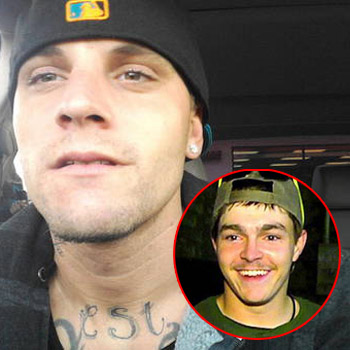 Courtland Rogers, estranged hubby of Teen Mom star Jenelle Evans, hung out with Buckwild's Shain Gandee just weeks before his unexpected death on April 1 and tells RadarOnline.com in an exclusive interview that the world "lost an awesome country boy."
"Look, make sure the world knows that they lost an awesome country boy," Courtland says.
"For the little time him and I chilled, I learned what a Hardee's hot ham and cheese sandwich was when we went through the drive-thru and he ordered 30 of them!"
Article continues below advertisement
In January while estranged from his wife Jenelle, Courtland took off to West Virginia and met up with cast members from Buckwild, which is when he met Shain.
"He will be dearly missed and this just heartbreaks me," Courtland tells Radar.
"He loved to laugh and smiled always. He didn't care about fame or Twitter, he cared about living his life to the fullest and having the best time doing whatever he did and knowing that he was doing what he loved."
Shain, 21, was found dead along with his uncle, David Gandee, and an unidentified person in a vehicle in West Virginia on Monday morning.
"I am sorry to report that Shain Gandee and two other people were found dead today," a Kanawha County Commission spokesperson tells Radar.
"This is a very sad and tragic event. We live in a very small community and this tragedy will affect many lives in Kanawha County. Our thoughts and prayers are with the Gandee family."
Article continues below advertisement
MTV also released a statement saying, "We are shocked and saddened by the terrible news about Shain Gandee, and those involved in this tragic incident. We are waiting for more information but at this time, our main concern is for the Gandee family and their friends.
"Our thoughts and prayers are with them. Shain had a magnetic personality, with a passion for life that touched everyone he met and we will miss him dearly."
Stay with RadarOnline.com as more details emerge on this tragic reality TV star death…