Blake Shelton Warns Luke Bryan: 'Don't Mock Taylor Swift At ACM Awards!'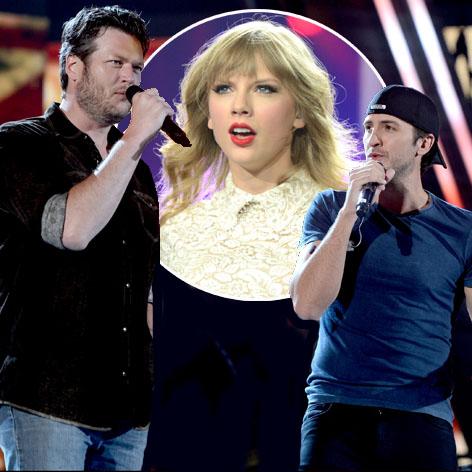 Country singer Luke Bryan might want to watch his back if he dares to make a joke about Taylor Swift when co-hosting the Academy of Country Music Awards on Sunday.
As if presenting the show isn't terrifying enough, Bryan has been warned by fellow host Blake Shelton that he faces the wrath of thousands of teenage Swift fans if he dares to mock their idol.
Worse still if he scorns her badly enough the star herself might write a song about him!
Article continues below advertisement
"I would tell him to be prepared for the onslaught of hatred that will come from Taylor Swift's fan base if you say any sort of a joke or if she's any part of a punch line in the monologue," Shelton told the AP when asked if he had any advice for Bryan.
"By the way, you're getting all those jokes this year."
The pair - who have dubbed themselves 'Bluke' - are hosting the show together and people are expecting plenty of unscripted moments which has left Bryan nervous, according to Shelton's wife, Miranda Lambert.
"I think Luke is nervous and he should be," she told People. "Not because he won't do great. It's because my husband is a loose cannon and he never goes by prompter and I never know what he's going to say or do."
Last year Swift - who is famous for her dramatic on-air reactions - was left baffled when Shelton and Reba McEntire joked about rumors that she had gone on a date with NFL hunk Tim Tebow.
Shelton - who has hosted the awards twice before - and Bryan will take the stage for the 48th Annual Academy of Country Music Awards live from the MGM Grand in Las Vegas on Sunday April 7 at 8pm on CBS.