Huff Post Re-Tweets Seemingly Anti-Semitic Message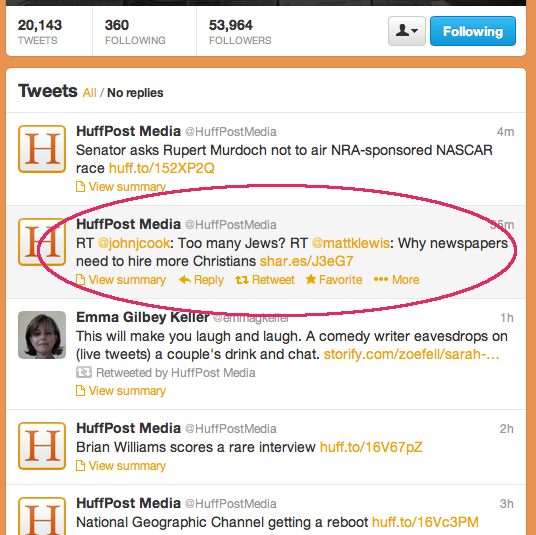 Another anti-Semitism controversy looks to be smoldering in media circles, this one involving publications such as the Huffington Post, Gawker and The Week magazine, and we've got all the details for you right here on RadarOnline.com.
Here's how it all breaks down:
Matt Lewis, a writer for The Week, tweeted a link to his article,"Why newspapers need to hire more Christians," which Gawker editor John Cook re-tweeted with the addendum, "Too many Jews?"
Article continues below advertisement
While Cook cmeant his tweet as sarcastic (as his follow-up tweets show), this part alone was re-tweeted by Huff Post media, muddying the waters of what the outlet's intent was in spreading the offensive message to more than 50,000 followers.
The next three tweets on Cook's account seem to parody Lewis' story title, as he wrote, "Why Newspapers Need to Hire Fewer Jews, Muslims, and Sikhs (Mormons Are OK)," "Why Christians Are More Qualified Than Non-Christians to Report, Write, and Edit the News," and "Why Newspapers Should Hire More People Like Me."