Annette Funicello: 7 Things You Don't Know About The Beloved Star!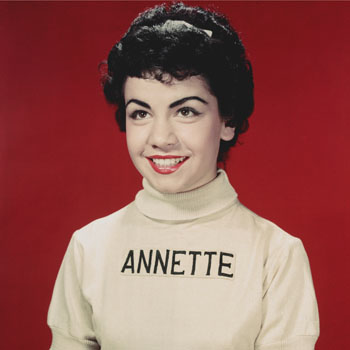 American sweetheart Annette Funicello passed away on Monday after a lengthy battle with multiple sclerosis at the age of 70.
From childhood she became a beloved Disney television star and a television and movie icon and RadarOnline.com has a list of seven things you may not know about Annette.
1. Annette was cast in the first season of the Mickey Mouse Club in 1955 and she was personally selected by Walt Disney himself.
Article continues below advertisement
2. She was the most popular Mouseketeer and by the end of the first season Annette was receiving 6,000 fan letters a month.
3. Under a Disney contract for years, when Annette started doing the "Beach Party" movies with Frankie Avalon she was originally asked not to show her belly button in bikinis! She agreed but did show her navel in bikinis in three movies.
4. Annette became a pop singer and released multiple singles, her biggest hit was Tall Paul, which was #7 on the charts in 1959 and Pineapple Princess peaked at #11 on the charts in 1960.
5. When she started working for Disney she wanted to change her last name from Funicello to something "more American" but Walt told her no because "her name was an asset because it was so unique that no one who heard it would ever be able to forget it," according to IMDB.
6. Annette's favorite TV show was Zorro and for her birthday Walt Disney arranged for her to guest star on an episode in 1959 and she appeared three more times on the show.
7. Annette was diagnosed with Multiple Sclerosis in 1987 but kept it a secret for years, including during filming of Back to the Beach, but finally announced her condition to refute claims that she was an alcoholic.