Bionic Dog! Mutt Makes History As First Canine To Get Four Bionic Paws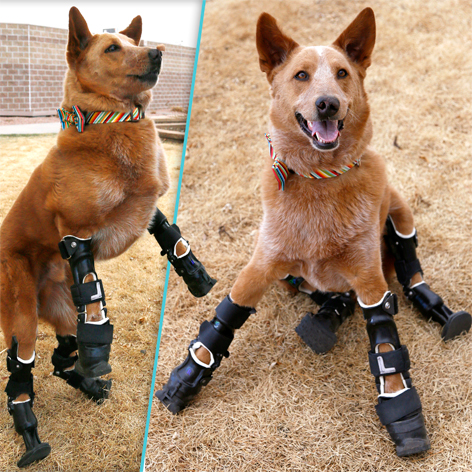 He was abandoned in a foreclosed house in the middle of a Nebraska winter as a puppy and when he was discovered, his feet and tail were frozen solid in a puddle of water.
Now Naki'o has a new leash on life and is making history as the first dog to receive four prosthetic paws.
After being rescued, the mixed breed pup got medical attention and his feet healed to rounded stumps, but he couldn't walk or play.
Article continues below advertisement
Fortunately veterinary assistant Christie Pace of Colorado Springs learned of the pup's plight and took him in.
She organized a fundraiser, connected with a company called Ortho Pets and Naki'o was fitted with two prosthetic rear paws. Company execs were so impressed, they kicked in the other two prosthetics and Naki'o is now believed to be the first canine ever to have all four of his limbs replaced.
"Naiki'o can now not only chase after a ball with other dogs but he can beat them to the catch!" says proud adoptive mom Christie.