The 2013 MTV Movie Awards: The 7 Most Outrageous Moments!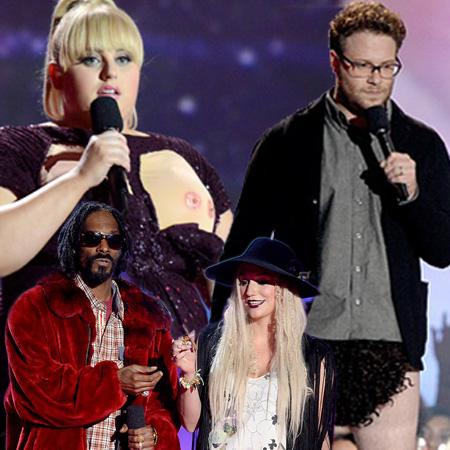 Overall, Sunday night's 2013 MTV Movie Awards received mixed reviews, but first-time host Rebel Wilson, along with several guest stars, ensured there were plenty of shocking moments to keep the audience awake and on its toes. From Les Mis spoofs and splifs to (double!) nip-slips, onstage crashers, and at least one hairy situation, keep reading for the seven most outrageous moments from the live show.
Article continues below advertisement
7. Emma Watson's Co-Star in "50 Shades of Grey" Revealed
It's been rumored that Emma Watson will play Anastasia Steele in the film version of the popular soft-porn novel 50 Shades of Grey. And Sunday night, her co-star for all those racy bedroom scenes was finally revealed. Find out who will be playing Christian Grey.
6. Iron Man Gets Breasts
Following in the footsteps of other recent female awards show hosts like Anne Hathaway, Tina Fey and Amy Poehler, Wilson incorporated quite a few costume changes into her routine. From a leather dominatrix suit to a koala bear-clad jumpsuit, Wilson's various getups generated as much laughs as the skits themselves. But the Australian actress' take on the buxom Iron Man suit during the show's opening skit generated some of the biggest laughs of the night.
2013 MTV Movie Awards - Latest Movie News
5. Sneak Peak At Iron Man 3
Speaking of Iron Man… There were plenty of tributes to the third installment of the superhero blockbuster starring Robert Downey Jr., including an exclusive sneak peek at Iron Man 3. And this time, it wasn't Downey's big-name co-stars or even Downey himself, that had everyone buzzing about the new film -- it was the Iron Man suit that quite literally took off during this special preview. Check it out.
Article continues below advertisement
4. Seth Rogen & Danny McBride Drop Trou
The evening's host wasn't the only one showing some skin during the awards show. While presenting the Golden Popcorn for Best Shirtless Performance, Seth Rogen and Danny McBride entertained fellow presenter Zac Efron when they dropped their pants to reveal some, well, interesting underwear. The award winner Taylor Lautner was a good sport about the somewhat hairy situation, even after receiving a hug from a still pant-less Rogen.
3. Ke$ha & Snoop Share a Splif
It wasn't just the spoofs and acceptance speeches that brought the shock factor. Rapper Snoop Dogg and edgy singer Ke$ha probably had the network fuming when they appeared on stage puffing on what appeared to be a marijuana joint. While Snoop Dogg, who currently goes by the name Snoop Lion, has been a long-time advocate of marijuana, the move still surprised the young audience -- and broadcasters (Smoking marijuana in a public place is still illegal in California).
Article continues below advertisement
And after you watch this clip, check out these photos of the best, worst and wackiest dressed stars at the MTV Movie Awards.