60s TV Writer Babe Tells All About Sleeping With Hollywood Legends From Jimmy Hendrix To Burt Reynolds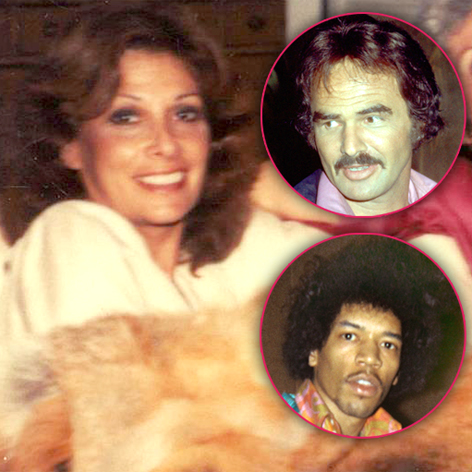 The wild days of having sex with old Hollywood legends has come to life in a new interview where a writer from the Dick Cavett Show reveals the salacious (and hysterical) details that put any current starlet's escapades to shame!
Sandra Harmon worked on the legendary talk show during the heydays of free love in the 60s, and her stories about wild sex with Jimi Hendrix to the night she accidentally knocked off Burt Reynolds' toupee during a romp are all included in a tell-all conversation with the New York Post.
Article continues below advertisement
Harmon, now 74, says her trysts with guests were unforgettable.
She says she once got frisky with Burt Reynolds in a dressing room, but things went awry.
"At some point, I don't know what I touched, but his toupee flew off. I was shocked. I was turned off. He was turned off. Everyone was turned off. It was over. That ended the romance," she laughed about the incident.
His publicist had already tried to warn Sandra about his sensitive hair piece.
"She knew he wore a toupee, and as a joke she sent me the glossy with red pencil marking where his toupee was attached, and where I should not tug in case I had sex with him. I had no intention of having sex with him, so I didn't pay much attention to it, except to laugh, and then I forgot all about it."
Except in the heat of the moment, she forgot all about the warning.
"In a moment of passion, I grabbed his hair in exactly the wrong place — and it popped off and fell on the floor," she revealed.
Article continues below advertisement
Her roll in the hay with music legend Jimi Hendrix all started when he tried to woo her with a bubble bath.
"I was interviewing Jimi Hendrix for our post-Woodstock show, and he decided he wanted to come over to my place. He brought his guitar, he played for me, turned me on to coke for the first time. We made love for a long, long time, which is what happens when you are on coke," she said. "He was a lovely guy — a fragile body — very gentle and sweet. I saw him once again and not long after, he died." The two found themselves in a bubble bath together.
"This is wonderful. It's so good in here. So warm. I love taking baths. It makes me feel so good when you soap me like that," Sandra says Jimi told her.
As she looks back on her sextastic life, Sandra says she would do it all over again.
"How could I have regrets? It was the sexual revolution. The mantra was sex, drugs and rock 'n' roll. There was no such thing as AIDS or HIV. I was 26 years old, very pretty, and just having left a marriage, I was eager for love and romance," she said. "Who wouldn't be attracted to them, and, happily, they were attracted to me. Remember, it was the sexual revolution for them, too."