Watergate, Real Housewives Style! Tamra Barney Denies Slamming Gretchen Rossi -- But -- It Was All Caught On Tape!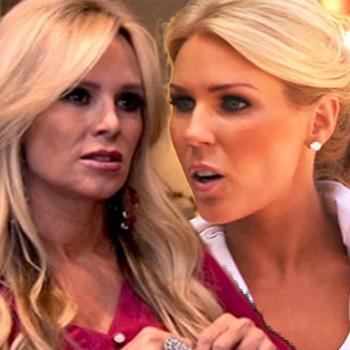 The cat claws are out among The Real Housewives of Orange County!
Tamra Barney gave a mean interview recently slamming her co-star Gretchen Rossi's singing skills and it looks like her not-so-nice comment has really thrown Gretchen for a loop!
Slade Smiley's girlfriend and Tamra have been working hard to repair their strained friendship, and this recent slight apparently blindsided Gretchen, but Tamra has done some major backtracking and Gretchen is trying to give her friend the benefit of the doubt.
Article continues below advertisement
Telling the website All About the Real Housewives that she thought she and Tamra were getting along, Gretchen said this latest dig surprised her.
"Perfect example is this interview with you guys, when I asked her about it she texted me it was all BS and you guys completely manipulated the story, but then you guys said you have voice recordings of her saying this about me, so as anyone would feel, sometimes it's hard to know what the truth is."
Gretchen diplomatically says that she isn't going to continue the fighting and defends Tamra.
"However as a friend I want to give her the benefit, so I have to believe her."
Gretchen does admit that IF Tamra made the vicious comment about her then she isn't very happy.
"With that said you asked if what was said was hurtful, and the truth is if she did say it, of course it is. How could it not be, that is why I immediately reached out to her and asked why would she say those things? All I know is that I have been nothing but supportive about her business endeavors, her personal life, and protective over people taking away from special moments in her life (as you will see this season with an event at her fitness studio and dress shopping day)."
Article continues below advertisement
Gretchen seems to be torn between believing her "friend" and believing the website with the recording of the conversation, telling them: "So obviously, if what was said in this article is true it is beyond hurtful that she would tear down my business, my character again (because we had a disagreement) and now my singing."
The Real Housewives of Orange County returns on April 1 on Bravo with way more drama for the first ladies of the franchise!
Do you think Gretchen should be mad at Tamra? Tell us in comments!