Cry Me A RiRi! Chris Brown Says He & Rihanna Have Split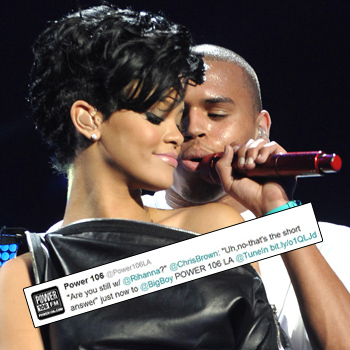 That didn't take long!
Controversial couple Rihanna and Chris Brown went public with their reconciled romance several months ago, but their blissful relationship is already over, the 23-year-old Brown said on Friday.
He made the confession to Power 106 – and RadarOnline.com has the details.
"Are you still with Rihanna?" the popular Los Angeles hip-hop station's DJ Big Boy bluntly asked Brown during the interview.
Article continues below advertisement
"Uh, no," Brown responded. "That's the short answer."
The radio station promptly tweeted the exchange from their official account.
Just days ago, Brown gushed over the Barbados born beauty to Ryan Seacrest, telling him how great their relationship was.
"It's still like we're kids. I try not to be too grown and be like, 'Lets have candlelight dinner every night.' I try to make sure everything is fun. It has to be fun and it has to be genuine."
Also in the interview, Brown discusses his beef with Frank Ocean, his comparison to Tupac and working with Jennifer Lopez.
According to Power 106, Brown will be making another announcement on Big Boy's Neighborhood Monday morning.