Reality TV Brawl! Tori Spelling Slams Kardashians Over Alligator Killing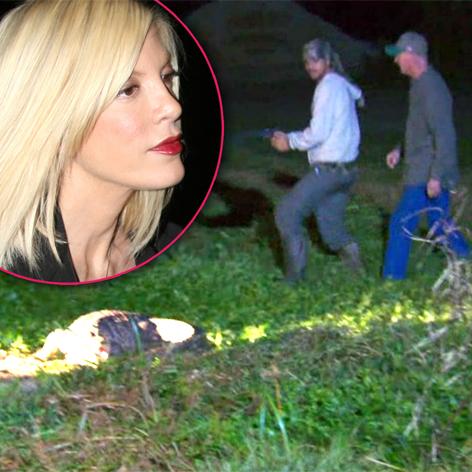 Reality star fight!
The Kardashians have finally crossed the line and they've made a new enemy out of fellow reality star Tori Spelling, RadarOnline.com is reporting.
On Sunday night's episode of the ratings challenged Kourtney & Kim Take Miami , Scott Disick went alligator hunting and it upset Tori so much that she took to her Twitter to bash him and the show.
"Any1 else upset by 2nite ep of K&K Take Miami? Taking alligators life on camera as a storyline&making a mockery of it sent me over the edge," Tori wrote about Scott's escapade.
Article continues below advertisement
The shocking hunting trip showed Kourtney's baby daddy going hunting with Bachelor star Vienna Girardi's family and he actually shot the gator behind the eyes, saying it was the most humane way to kill it.
Scott crassly then said that he wanted to take the gator to have the skin turned into a pair of loafers.
Do you think Tori is right to call out Scott for killing the alligator just for ratings? Tell us in comments!