Exclusive
Kardashian TV Empire Collapse! Series Low Ratings For Kourtney & Kim Take Miami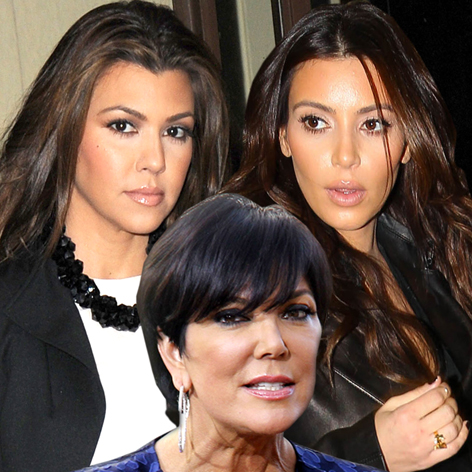 From bikini waxes to vampire facials, the Kardashians will do anything to get ratings, but RadarOnline.com has learned that the numbers show that their fan base is rapidly declining.
The Keeping Up With Kardashians spin-off reality shows starring Kourtney, Kim and Khloé Kardashian have gone from blockbuster hits to less than half of their original ratings numbers in just a few short years.
The outrageous sisters used to be on the top of their game, commanding huge salaries and drawing in record numbers.
Article continues below advertisement
According to TV By the Numbers, Kourtney & Kim Take New York premiered in January 2011 with three million viewers.
And before that, at the height of their fame, the spin-off, Kourtney & Khloé Take Miami set a record for E!, with the season finale of season two in 2010 pulling in a whopping 3.7 million viewers .
Even a January, 2012 Kourtney & Kim Take New York episode had nearly 4.5 million viewers.
Fast forward to March, 2013, and the Kardashian clout on television seems to be falling fast.
The most recent episode of Kourtney & Kim Take Miami from March 17, 2013 had a paltry 1.3 million eyeballs watching as the girls tried to shock viewers but instead just turned them off.
In comparison, Duck Dynasty pulled in a 2.8 million viewers and both The Walking Dead and The Bible had a whopping 10 million viewers!
The matriarch of the family, Kris Jenner , is begging her Twitter followers to tune in to the low-rated show, writing to her 2.8 million followers: "Omg!!! Less than an hour east coast for funniest episode ever!! Tune in to watch Kourtney and Kim Take Miami at 9/8c on E! so excited!! Yay!"
With Kim's 72 day marriage to Kris Humphries becoming a court circus where depositions have been given claiming the show is fake, to Kourtney and Scott's incessant fighting, the shine may have worn off the Kardashian gloss.