Rachel McAdams' Post-Break-Up Phone Calls To Ryan Gosling Infuriate Eva Mendes!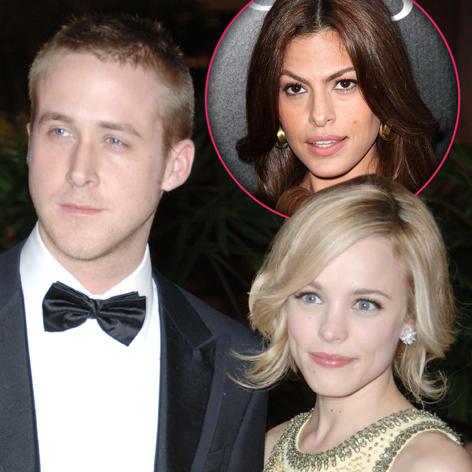 Rachel McAdams has been relying on the help and comfort of her ex-boyfriend, Ryan Gosling, following her split from Michael Sheen and his current squeeze, Eva Mendes, isn't happy about it!
According to a report in UK tabloid Now magazine, McAdams, 34, has been regularly calling Gosling, 32, with whom she was in a relationship for two years, which is infuriating 39-year-old Mendes.
"Rachel's always kept in touch with Ryan, but now that she's split with Michael, she's been calling him and using him as a shoulder to cry on," a close pal told Now.
Article continues below advertisement
"It hasn't gone down very well with Eva, to say the least, but Ryan wants to be there as a friend for his ex."
McAdams and Gosling dated from 2005 to 2007. They briefly reconciled in 2008, however it wasn't to last.
The two have remained friends since, with Gosling describing McAdams as "one of the great loves of my life."
VIDEO: 10-Year-Old Ryan Gosling Busts A Move In MC Hammer Pants
They met on the set of The Notebook, a fact Gosling will never forget.
"God bless The Notebook," he said.
"It introduced me to one of the great loves of my life. But people do Rachel and me a disservice by assuming we were anything like the people in that movie. Rachel and my love story is a hell of a lot more romantic than that."
As RadarOnline.com previously reported, McAdams broke off her two-year relationship with British actor Sheen, 44, last month.
It was suggested that the long-distance aspect of their relationship was to blame for the split. McAdams lives in Toronto, Canada, while Sheen divides his time between the UK and Los Angeles.