Thanks Sis! Pope Francis' Sister Used To Pray He Would NOT Be Made Pontiff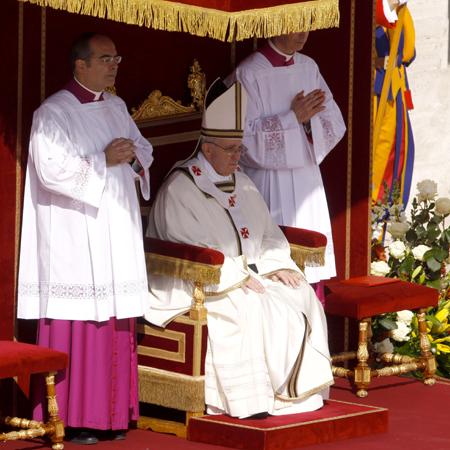 As tens of thousands of people jammed St. Peter's Square in Rome Tuesday for the official inauguration of Pope Francis as the Catholic Church's 266th pontiff, we're learning about a funny story involving his sister who used to pray that he would NOT be made Pontiff.
Just like most of the world, Maria Elena Bergoglio, who lives in Buenos Aires, says she was stunned to learn last week that her brother, Jorge Mario Bergoglio, was elected as the new pope.
Article continues below advertisement
In the past, she told CNN that she had actually prayed that the cardinals would NOT pick him!
"During the previous conclave, I was praying for him not to be elected ... because I didn't want my brother to leave," she told CNN en Español on Monday. "It's a position that was a little selfish."
But this time around, Bergoglio said she changed her mind!
"I prayed that the Holy Spirit would intervene and not listen to me. And it didn't listen to me," she said, laughing. "It did what it wanted."
And like many in the world, Maria anxiously watched as white smoke billowed out from the Sistine Chapel chimney to signify a new pope has been chosen; then, she got a call from her brother.
"I almost died," she said. "The telephone rang and my son answered. I heard him say, 'ooooh, God.' I couldn't believe it."
Maria says her brother told her not to worry and reassured her he was well.
"I told him I wanted to hug him," she said, "and he told me that we are already embracing from a distance, which is also something that I feel and that is real."
He also asked her to convey his well wishers to the rest of their family.
"He said, 'I cannot call everyone. We are a very big family, so please send them my love. Because if I call everyone, it will empty the Vatican coffers,' " Bergoglio said.