Exclusive
Balloon Love Fantastical Fetish! The My Strange Addiction Sneak Peek You Just HAVE To See!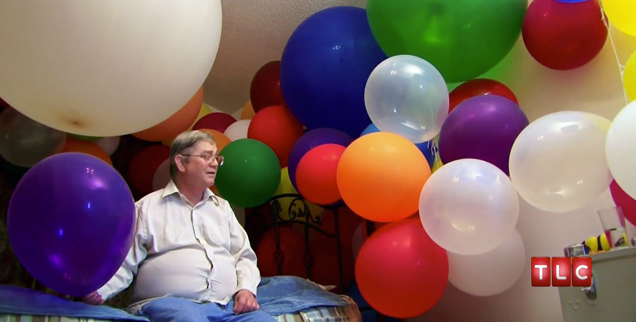 Julius has had a five-decade long affair with balloons and his obsession with the "beautiful, soft, smooth, delicate" objects has crossed over into a dark addiction.
The 62-year-old man is sharing his infatuation with balloons on this exclusive sneak peek of My Strange Addiction obtained by RadarOnline.com, and he reveals that his "love for balloons is also a sexual love."
"When I see a beautiful balloon my heart starts to flutter and I get aroused," Julius says about his rubber preference.
Article continues below advertisement
"I'll hug it and I'll kiss it and it will be like being in heaven."
Julius says he has favorite balloons, which he compares to a "guy that prefers blondes or brunettes," and sleeps in a room filled with the colorful toys.
He has more than 50,000 balloons in his home, and says that he has a "connection" to them.
"Intellectually I know that balloons are not alive but sometimes I wonder if it is my love for them that brings them alive."