Kim Kardashian Slammed By Critics For Her 'Temptation' Performance, 'Vainly Trying To Act' And 'Vapid'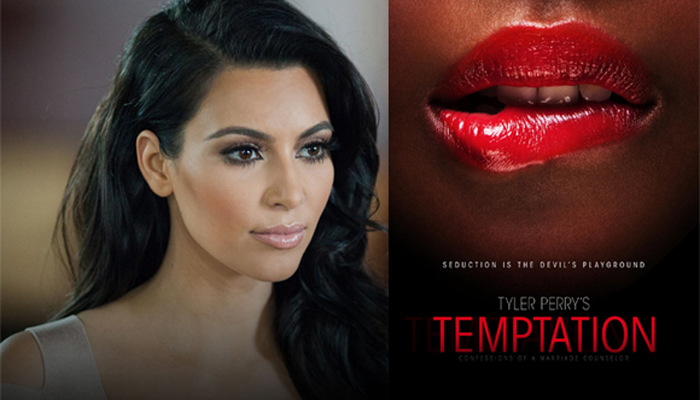 Kim Kardashian is not going to be winning an Academy Award anytime soon!
The 32-year-old reality star, who has expressed an interest in pursuing a career as an actress and getting a star on the Hollywood Walk of Fame, makes her big screen debut Friday in Tyler Perry's Temptation: Confessions of a Marriage Counselor, but her supporting role playing Ava, a marriage counselor, is getting absolutely panned by critics across the country – and RadarOnline.com has the details.
Article continues below advertisement
"Kim Kardashian, as nasal and awful an actress as you might imagine," snarled Alonso Duralde from The Wrap.
"…And Kim Kardashian, as the protagonist's bitchy fashionista coworker, vainly trying to act," Time Out, which only allotted a paragraph to review the film and gave it a meek single star, scathed about her.
Roger Moore describes Kardashian's performance as "vapid" and gives the film a measly one-and-a-half stars.
"What alarms me more than anything — I mean I'm a seasoned campaigner and you can't scare me with Tyler Perry — is the casting of Kim Kardashian in the film," spurts Ken Hanke of Mountain X. "Really? Say what you will about Perry's movies, but — with the occasional exception of a generic Jesus-loving hunky guy to set the heroine right — he usually casts his films carefully and well. This is hard to fathom. Of course, as our resident expert in all things Tyler Perry, I'll be there to find out."
Article continues below advertisement
"Her coworker Ava is played by Kim Kardashian, a true feat of stunt casting that's only made all the more impressive by her inability to inject the slightest bit of emotion into her steady stream of insults," writes Hollywood.com's Jenni Miller about Kim's performance.
"It is there we also meet the Kim Kardashian character. Let's just say that the question of whether the celebrity gossip maven can act is answered within 60 seconds of her cold absence of any feeling performance," Joel D Amos of Moviefanatic.com says about her acting skills.
Are you excited to see Kim Kardashian on the big screen? Sound off below.