Kim Kardashian Dresses Her Baby Bump In Leather And Lace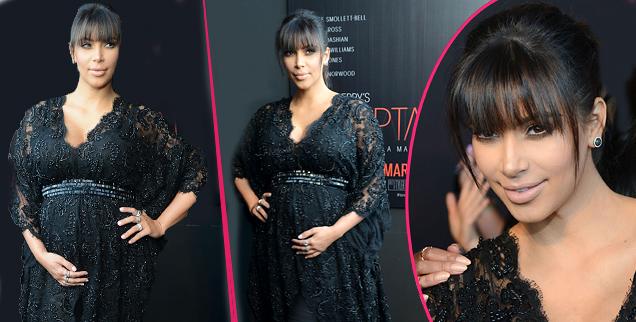 Talk about a train wreck!
You'd have thought Kim Kardashian would have sworn off dresses with trains after her ill fated wedding to Kris Humphries, but judging by her latest outfit it appears not.
The pregnant reality TV star stepped out in a bizarre black leather and lace combo - complete with a dramatic train - for the Atlanta premiere of Tyler Perry's Temptation: Confessions of a Marriage Counselor.
Article continues below advertisement
Treading carefully in her black Christian Louboutin heels the Keeping Up with the Kardashians star proudly displayed her burgeoning baby bump as well as her ample cleavage at the event on Saturday night.
The 32-year-old fashion designer and divorcee-wannabe, who is ironically playing a marriage counselor in the new movie, admitted being pregnant has been harder than she thought it would be.
"Being pregnant is not as easy as my sister made it look or as my mom has made it look" she told E! News on the red carpet. "It's a little painful. I've gotten sick a couple of times. It's getting a little bit more difficult to get around."
MORE ON:
Keeping Up With the Kardashians
Kim - who suffered a miscarriage scare at the beginning of March - is expecting a girl with rapper Kanye West in July while she's still battling Kris Humphries in divorce court.