'I've Gotten Wider But My Belly Hasn't Popped Yet!' Kim Kardashian Blogs About 'Awkward' Pregnancy Stage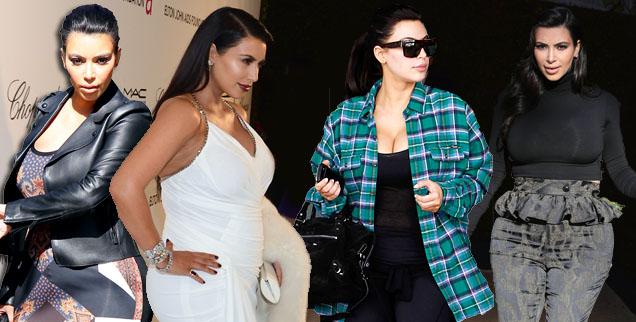 Kim Kardashian is having a hard time dressing her pregnancy curves!
In two "mommy blogs," the 32-year-old reality star opens up about the added swerve to her curves, how the "in between" phase her body is in is so "awkward" to dress, and that she can't wait for her baby bump to pop so she can show it off – and RadarOnline.com has the details.
"When I really get my bump I will love showing it off, but some days its bigger than others and it hasn't really popped yet," Kim blogged about her body on Friday. "So this in between phase is so awkward to dress."
Article continues below advertisement
Kim, who has experienced multiple maternity fashion disasters, is trying to creatively dress her famous curves.
"I have gained lots of inches in width, but can't wait for the bump to pop… but finding ways to conceal it is hard."
In a separate blog later in the day, Kim talks about how much fun she is having with maternity fashion, but that it isn't easy and that she is focusing on concealing her weight gain at this stage of her pregnancy.
"I struggle finding things that don't make me look heavy," she admits. "Some days my baby bump really shows, and some days it doesn't…so I never really know what I am going to look like."
Kim and Kanye, who are expecting a baby girl, are due in July 2013.