Kendra Making A Splash With Her Amazing Body! How She's Staying In Such Great Shape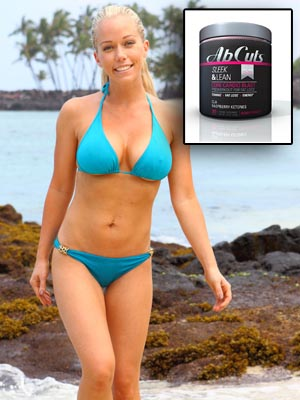 Kendra Wilkinson is showing lots of flesh to America every week on the ABC diving show Splash and she's had some help dropping 10 pounds in 10 days and then keeping her body in amazing shape.
"People are saying: 'I've never seen you look so good,'" Kendra said, adding she tells them that what she's doing must be working.
And now we've discovered exactly what she's doing to look so great.
Kendra is using Ab Cuts Sleek & Lean and it's impossible not to like the results!
Article continues below advertisement
She first gave up junk food for a high-fiber diet supplemented with Ab Cuts, which gave her metabolism a boost, she says.
Now, with Ab Cuts Sleek & Lean, Kendra's body is amazing.
The core weight loss ingredient used in Ab Cuts Sleek & Lean is Raspberry Ketone Crystals. This ingredient is supposed to reduce fat in the thigh areas, diminish abdominal fat, shrink the hips, and enhance your figure.
Other important ingredients found in this supplement are Conjugated Linolenic Acid 80%(CLA). Research suggests that simply adding CLA to one's diet can help reduce body fat, enhance lean muscle tissue and support improvements in metabolic health.
If her stomach starts grumbling around mid-morning, Kendra says her go-to snack is food with protein in it – something like a banana with almond butter. "Right now, I have to really know the difference between what I need and what I want," says Kendra.
"I need fuel right before I go swimming."
Kendra admits she's a junk-food junkie who's naturally still tempted by sweets, but once dinner is over, she says the kitchen is closed!
Ab Cuts Sleek & Lean is available at GNC stores or online at GNC.com.