Exclusive
Katie Holmes 'Disappointed' In Salacious New Tell-All Book, Doesn't Want Her Past Drudged Up!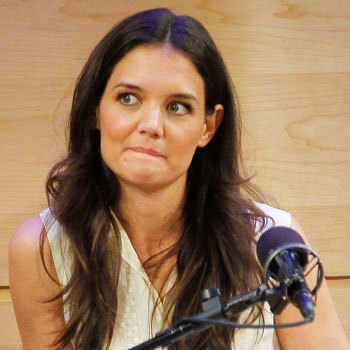 Katie Holmes has certainly come out of her shell since her split with Tom Cruise but RadarOnline.com has exclusively learned that a salacious new tell-all book is drudging up all the old memories the actress is so desperately trying to forget.
Who Is Katie Holmes? An Unauthorized Biography by New York Times best-selling celebrity biographer Marc Shapiro was released on Wednesday and insiders tell RadarOnline.com that Katie, 34, isn't worried about what's in the book, but is just annoyed that her life — including her childhood, her involvement with the controversial Church of Scientology and of course her relationship with Tom — is being rehashed for public consumption.
Article continues below advertisement
"Katie has been so focused on Suri and getting her career back on track, that she just doesn't see the point in someone publishing a book with stories that have already been reported in the past," the source told RadarOnline.com.
"She's disappointed that people try to capitalize on her life…especially when it's certain things from the past she's been trying to let go of or forget."
With 22 chapters, the biography doesn't reveal any new information on Katie or her life but is supposed to be something the reader can "relate to."
"Katie Holmes is not the typical Hollywood rags to riches story. In true storybook fashion she came out of nowhere to become the next big thing with Dawson's Creek, but after her sudden stardom she became just another working actress. She did films that never boosted her back up the ladder to true stardom," Shapiro said.
"She tossed her career away when she married Tom Cruise. Now, post TomKat, the fire is burning again and she has returned to her true love, with the possibility of true accomplishment. The Katie Holmes story we tell is something everyone, in varying degrees, has experienced and we can all relate to."
Finally, the insider reveals that while Katie isn't pleased in the publishing of the book — she's not going to let it get her down.
"Katie is laser focused right now on her future," the source told RadarOnline.com.
"Nothing is going to bring her down."