Joan River Keeps Heidi Klum Holocaust 'Joke' Going By Impersonating Hitler With Fake Mustache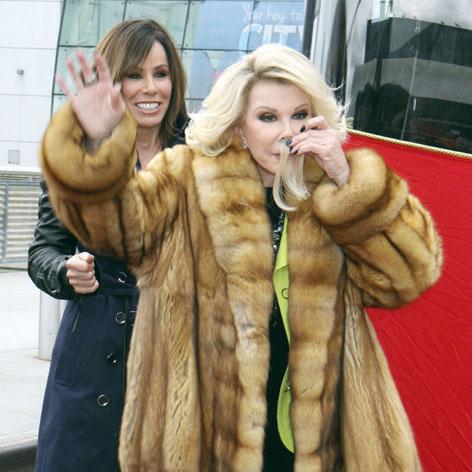 Joan Rivers can't let a good joke go....at least a joke she thinks is good.
On Friday, with daughter Melissa Rivers at her side, Joan cut off a piece of her hair and held it under her nose in an attempt to mimic Adolph Hitler's iconic mustache.
Joan's vamping wasn't lost on anyone offended by her joke about Heidi Klum's Oscar night dress.
As RadarOnline.com reported, during Monday's edition of E!'s Fashion Police, Joan commented on Heidi's very sexy, low-cut gown.
Article continues below advertisement
"The last time a German looked this hot was when they were pushing Jews into the ovens," Joan said, outraging many who think there is absolutely nothing funny about the Holocaust.
The Anti-Defamation League even demanded she apologize, but Rivers refused.
"It's a joke," Joan insisted. It didn't bother Heidi… doesn't bother me," she said.
Her Hitler mustache bit during what was supposed to be a fun ribbon cutting for a new Gray Line Tour in New York, made it clear Joan's standing firm on that...and prepared to keep it going.