Jesus Vs. Zombies! 'The Bible' & 'The Walking Dead' Face Off In One Hell Of An Easter Battle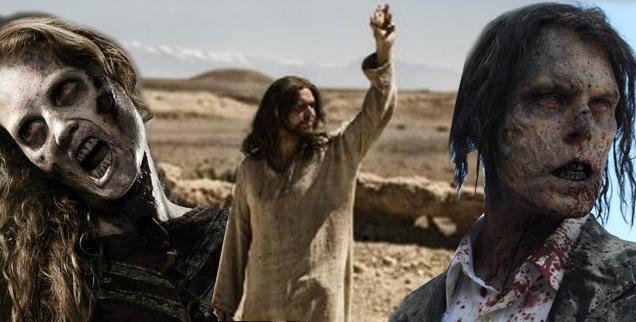 Easter is shaping up to be one hell of a TV ratings battle pitting Jesus against zombies as The Bible and The Walking Dead will square off for the final time.
History Channel's smash hit biblical mini-series will wrap up with its fifth and final episode Sunday night, going against AMC's zombie ratings winner, which is concluding its third season.
Both cable TV titans promise to go out with a bang, as producer Mark Burnett's The Bible depicts the crucifixion and resurrection of Jesus and The Walking Dead's shocker kills off key cast members.
Article continues below advertisement
The shows have gone head-to-head in the Sunday ratings for the past four weeks. Last week, The Walking Dead triumphed with 10.9 million viewers, while The Bible was close behind with 10.3. The week before, however, Jesus won the ratings race with 29,000 more viewers than TV's favorite zombies.
In total viewers, The Bible is ahead, 11.2 to 10.6 million--but The Walking Dead has many more viewers in the important 18- to 49-year-old age group that advertisers desire.
So which show will you watch? Tell us in Comments!