Miracle Of Iditarod Sled Dog! Found Alive & Well After Six Days Lost In Alaskan Wilderness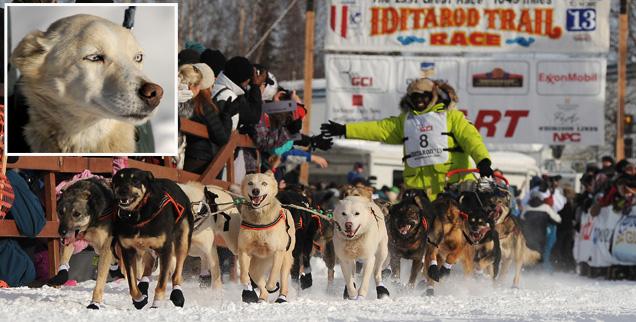 May, a sweet-looking nine-year-old sled dog, has been found six days after she went missing and was presumed dead in the harsh Alaska wilderness.
May became separated from the rest of her team when her musher stopped after becoming entangled with another racer in the famed 1,049 mile Iditarod Trail Race.
When it was realized May was missing, rescuers on foot and in a plane scoured the area with no success. Most assumed the strawberry blond canine had been killed by wolves.
Article continues below advertisement
Six days later May turned up not far from the race's starting point -- an incredible 400 miles from where she'd become lost!
May, a veteran Iditarod dog, was on loan to Jamaica musher Newton Marshall. She got loose when his team became tangled with another team. Race rules required Marshall to scratch for not having all of his dogs.
"I'm still in utter amazement at how far she got," Kaitlin Koch told the Anchorage Daily News. Koch was one of three snowmachiners who spotted May Wednesday evening and rescued her.
"My boyfriend and my buddy were on their sleds, seeing if she'd follow them," Koch said. "I stopped my sled and got off and went to the ground and she came right up to me. She sat in my lap the entire trip back to Big Lake."
Except for weight loss and a minor injury to one paw -- she'd lost her race booties -- May was in excellent shape considering her ordeal.
"Everybody who has a dog has a tendency to think these sled dogs are poodles or something, and they're not," said Stan Smith, another veteran musher. "These are absolutely incredible athletes, and they have the internal drive of an athlete.
"She knows, 'Well, I came from here, so let's go.' It just shows the determination of those guys."