Free Again? Not So Fast! Despite Split Reports, George Clooney Still With Stacy Keibler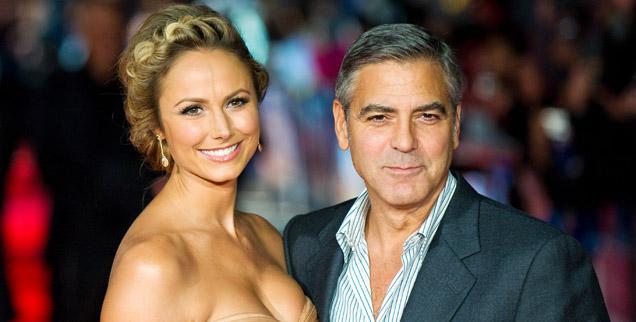 Everyone thought they saw this coming!
For a few hours Friday it looked like Hollywood's ultimate bachelor, George Clooney, was going to be maintaining his single status as reports said he had broken up with his girlfriend of nearly two years, Stacy Keibler.
While marriage talk has picked up recently among certain observers, the smart money is always on Clooney defending his legendary bachelor status and it appeared he had done just that!
Article continues below advertisement
But George and Stacy are still very much together, a source close to the couple tells Radar, despite reports claiming it's all over.
Clooney, 51, has been with Keibler, 33, since July, 2011. "The knew it was never going to end in marriage or babies and Stacy does want kids and a husband in the next few years," a source told the Sun, which first reported the split. But while no one is saying marriage, it's clear Stacy is still with Geroge.
Clooney's previous romantic relationship was with Elisabetta Canalis, another in a long line of girlfriends who have failed to get the actor to make the ultimate relationship commitment.
Clooney and Keibler just attended the Oscars together and he is now in Germany filming a movie.