Dax Shepard Writes Touching Tribute To His Late Father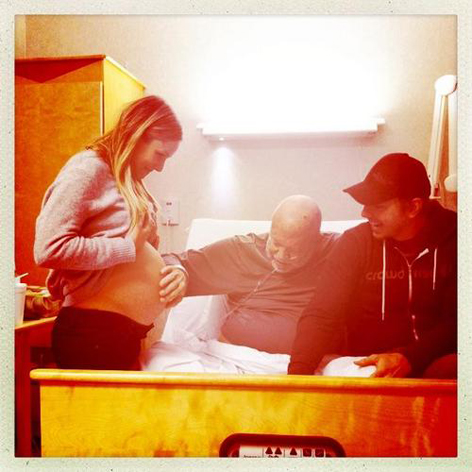 It is probably one of the most heartbreaking tributes you will ever read.
Funnyman Dax Shepard has written a touching blog post about his father Dave Shepard Sr. who died of cancer on New Year's Eve at the age of 62.
And the piece includes a picture of his ailing dad rubbing his heavily pregnant girlfriend, Kristen Bell's tummy. The actress – whom Dax refers to as his "wife" – is expecting the couple's first child.
Article continues below advertisement
Speaking about finding out his father had died of small cell carcinoma Dax, 38, wrote: "I had been back to Detroit just six days before and was disappointed I couldn't be with him at the actual finish line.
"We were partners. We had taken on this cancer project together."
But the Parenthood actor reveals he hadn't always had a great relationship with his father. In between August last year – when he found out his dad had cancer – and December, Dax says he spent quality time with the man whom didn't live with him for 12 years during his childhood.
"One of the hidden benefits of cancer is that it can erode grudges the way WD-40 dissolves rust," the actor wrote.
"It just finds it's sic way into all the nooks and crannies and starts loosening. Before long, the once formidable chip on my shoulder had melded into something the size of a nicotine patch."
As the months wore on Dax says he watched his father's massive appetite wither away. By December he was only able to "pick at" the waffles and bacon served at his favorite restaurant.
Article continues below advertisement
"It was a very clear signal to me that the end was near," the actor said.
Kristen Bell On Long Engagement To Dax Shepard 'I Don't Want A Wedding'
But fortunately before Mr. Shepard died he was able to meet his unborn grandchild when Kristen, 32, surprised the father and son by flying into Detroit.
"It was an amazing, incredible, perfectly timed surprise," Dax wrote. "She lifted her shirt up and he put his hand on her swollen stomach.
"He left it there for the better part of an hour..."
He added: "If I live to be a thousand I will still be in debt to my wife for giving him that one last thrill."
David Shepard Sr. died peacefully a few days later.