Cindy Crawford: 17-Year Age Difference Killed My Marriage To Richard Gere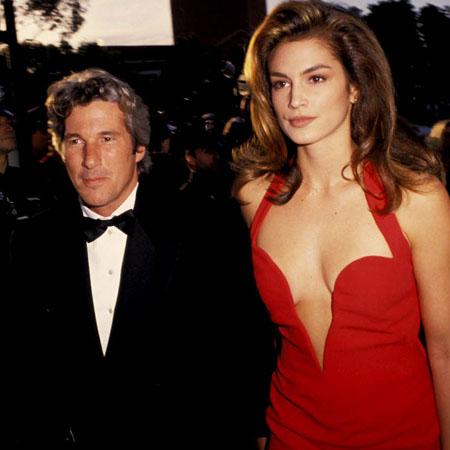 They were arguably THE show biz super-couple of the early 90s … until they split in 1995.
Now, supermodel Cindy Crawford opens up to OWN about her ill-fated marriage to screen stud Richard Gere, claiming their 17-year age gap was the reason why the relationship didn't have Pretty Woman's storybook ending.
"I just think your twenties, for women, is such a time when you're starting to come into your own and feel your own power and connect to your inner strength," Cindy, 47, told OWN. "And it's hard to do that, it's hard to change in a relationship, because what one person might have signed up for, all of a sudden, you're not that anymore."
Article continues below advertisement
The mole-faced beauty remembered back to 1987, when at just 21, she met the then-38-year-old Primal Fear star at a celeb-laden party at the home of legendary photographer Herb Ritts.
"There were a lot of really cool people there. I was like, 'Wow! Jack Nicholson!' It was still all new to me," she recalled, adding, "We pretty much started dating right away."
Cindy said the fact that her career took off into the stratosphere in that time changed her outlook on life - and put serious strains on her relationship with the A-lister.
"I think I was more willing at 22 to be, like, 'Okay, I'll follow,'" she remembered, "but then you start going, 'Well, I don't want to just follow, I want to lead sometimes, and I want to walk side by side sometimes.'"
Cindy, who's now married to businessman Rande Gerber with whom she has two kids, praised her ex-husband for his humility in Hollywood, practically an oxymoron in itself.
"When I would see how he was with fans when they approached him, a lot of the times it wouldn't be a good moment to sign an autograph, shake a hand or sign a picture," she remembered. "But I got to look to him to see how he created boundaries for himself that felt good - being a nice girl from the Midwest, my inclination is always to give and say yes because I want people to like me.
Article continues below advertisement
"But then I saw Richard do it in a way that was like, 'You know what? Sorry, I'm not doing that. But I see you.' He felt it was really just about looking someone in the eyes and making sure that they felt seen."
And if you're wondering, there are no hard feelings between Cindy and Gere, who remarried model Carey Lowell in 2002.
"Richard's a super smart guy, and he's interesting, and he's interested, and I learned a lot about the world," she said. "It was a great chapter in my life."