Hollywood Ballers! Basketball Courts Become New "Must Have" Feature At Celeb Estates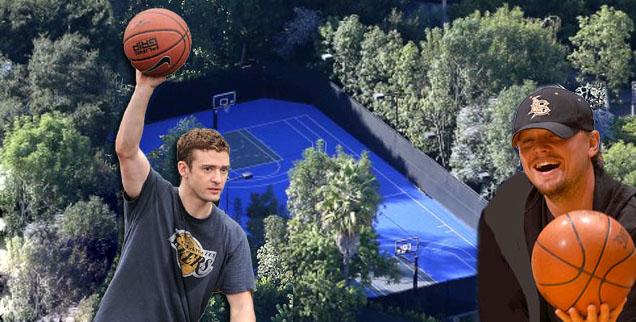 Forget Olympic size swimming pools, eight car garages and back yard helipads, the latest celebrity must-have is a personal basketball court!
No longer content with watching the L.A. Lakers courtside, A-listers want to score some three pointers from the comfort of their own home, and they are willing to splash some serious cash to get it.
From Will Smith and Selena Gomez, to Leonardo DiCaprio and Matt LeBlanc, RadarOnline.com is opening the doors to the homes of Hollywood's hottest hoop loving stars.
Article continues below advertisement
While NBA players, like Kobe Bryant and Michael Jordan, have been installing basketball courts in their homes for years, it's only recently become a slam dunk for non pros looking for properties too.
"Twenty-two basketball estates sold for over $1 million last year in Southern California," Beverly Hills realtor Drew De La Houssaye tells RadarOnline.com exclusively.
"During the first two months of 2013, we have already had thirteen such sales. We are on trend for a 300% increase in sales this year."
So who else is following the over the top trend?
Considering Will Smith's $20 million Calabasas castle has its own zip code, it's not surprising it also boasts a full-sized basketball court.
Justin Timberlake had sport on the brain when he bought his six bedroom mansion which has a pool, basketball court and even a putting green.
When Selena Gomez bought her Tarzana home in 2011 she was still with her basketball loving boyfriend, Justin Bieber, which might explain why she picked a home with its own court.
Article continues below advertisement
Some star's passion for the game has led to trouble though.
Jamie Foxx's love for late night naked games of basketball generated complaints from neighbors at his Tarzana home. Luckily for them, he moved to a new house with 40-acres where he can do as he pleases.
And Leo DiCaprio's neighbors were so concerned the construction of his court would threaten the stability of their hillside homes they filed a lawsuit, which was quickly settled, and his court was completed.
"We live in a culture where a 'baller' is an extremely successful person," says Houssaye. "So it's not surprising that basketball courts themselves have become status symbols. Tennis courts - out, basketball courts - in."