Brandi Glanville Hides Burned Hand With Leather, Fingerless Glove At Event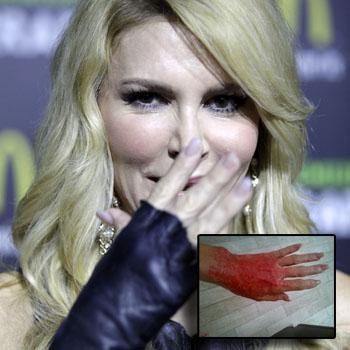 We don't know how she did it - but it sure looks like it must hurt a lot!
Brandi Glanville suspiciously wore a pair of black leather, fingerless gloves on a red carpet event in Hollywood on Thursday night – and now, we know the awful reason why.
She burned her hand!
The Real Housewives of Beverly Hills stunner, 40, took to Twitter Friday morning to explain what happened after some haters questioned her fashion sense.
Article continues below advertisement
"Reason I wore gloves is my hands got burned, so I tried to match the outfit to them," she tweeted.
She also shared a very scary photo of her badly burned hand.
We hope you recover soon Brandi!