Jesse's Girl! Brandi Glanville Makes Out With Go Daddy's Heiman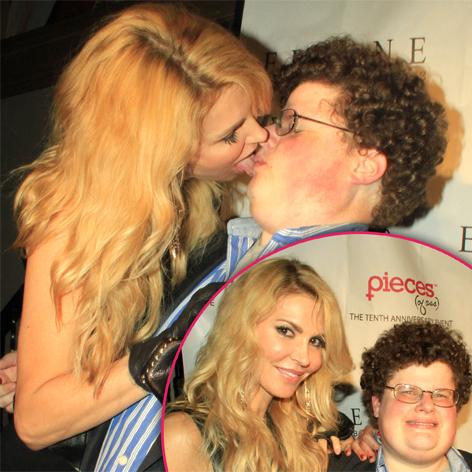 Cougar alert!
Serial flirter Brandi Glanville jokingly licked and planted a big wet one on Go Daddy's breakout star Jesse Heiman at an event Thursday in Hollywood, and RadarOnline.com has the funny photos.
The Real Housewives of Beverly Hills stunner, 40, bumped into Heiman, 34, at the Pieces (of Ass) stage production's 10th anniversary celebration at the Fonda Theater in L.A. – and Brandi apparently couldn't resist the temptation! ( Translation: she saw an opportunity for a fun photo op.)
Article continues below advertisement
Heiman became an overnight sensation when he was featured in a commercial for GoDaddy.com that first aired during the Super Bowl in which he made out with supermodel Bar Refaeli.
Nice work if you can get it!