Barbara's Back! Weepy Walters Returns To The View After 6 Weeks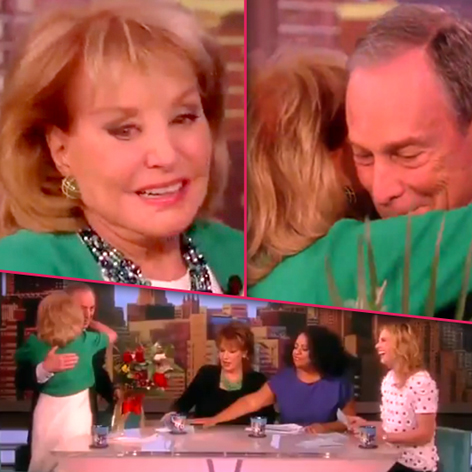 Barbara Walters made her return to The View, her first appearance on the ABC morning talk show in six weeks after an extended absence to tend to health issues, including a bout with chicken pox, and a concussion.
"After a lot of scratching and a lot of rest, I am fine and I am healthy," the iconic journalist said in her first return to the set.
Walters, clad in a green top, said the majority of her convalescence was spent on recovering from the concussion, as her case of "chicken pox came and went weeks ago.
Article continues below advertisement
"The head injury has taken longer," said Walters, 83. "Now happily my head is cleared and the concussion is over."
She said she contracted the chicken pox from a "well-known" actor she kissed on New Year's.
"The next day, he left, and what he didn't know then -- and what I didn't know at all -- was he was about to develop a bad case of shingles," she explained. "Now, if you have never had chicken pox you can get it from someone with shingles.
"I didn't know that … most people have chicken pox as kids -- except me!"
Walters received a special surprise in the form of New York mayor Michael Bloomberg, telling the politician he made her weep when he brought her flowers.
"I can't let you come back without flowers," Bloomberg responded. "I do this for everyone who gets sick in the city of New York."
Watch the video on RadarOnline.com
As we previously reported, Walters kicked off the year in disastrous fashion, first suffering from a concussion when she fell at an inauguration party at the home of the British ambassador, before she was diagnosed with chicken pox, which is very scarce in adults (about one out of every 10,000 people annually domestically).