Adrienne Maloof & Sean Stewart Step Out After Andy Cohen Slam Goes Public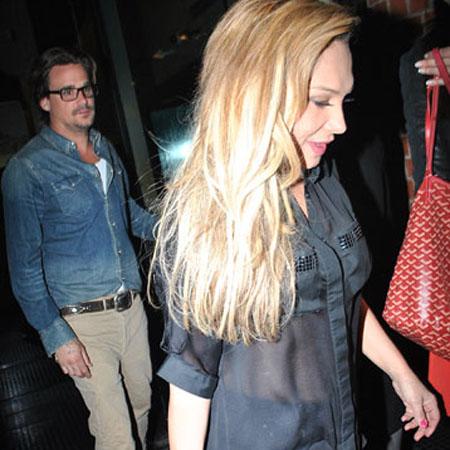 Adrienne Maloof and her boy toy beau, Sean Stewart, are still going strong. The unlikely couple was spotted out at upscale eatery Mr. Chow in Beverly Hills Tuesday night, hours after RadarOnline.com posted a preview clip of the upcoming The Real Housewives of Beverly Hills reunion special in which host Andy Cohen ripped into her.
As we previously reported, Cohen was clearly upset with Maloof for skipping the taping, which happened on Friday, March 1.
Article continues below advertisement
In the video, an unhappy Cohen faced the camera to make the announcement, saying: "Well, today we are missing one of the Housewives who's been with us since the beginning. Adrienne Maloof has decided not to participate today.
"This season was hard on Adrienne, as you all know. A secret about her family was revealed by Brandi. (Glanville) And from that moment on, Adrienne refused to speak directly about it. We know that frustrated you in the audience. It frustrated all of us too…" he said.
"Adrienne won't be here to tell her side of the story. Not only is she absent tonight, but she won't be on the show next season," Cohen stated.
And then, after a dramatic pause, Cohen finished with this zinger: "Adrienne Maloof's final act as a Housewife was NOT showing up tonight."
Watch the video on RadarOnline.com
Since her high-profile divorce from Dr. Paul Nassif, Maloof, 51, has hooked up with Sean, the 32-year-old son of rocker Rod Stewart, whose claim to fame is appearing on A&E's reality show Sons of Hollywood in 2007, and in 2008 on season two of Celebrity Rehab with Dr. Drew.