Exclusive
Adrienne Maloof Isn't Shocked By Andy Cohen Jabs -- But Thinks He's 'Behaving Very Unprofessionally'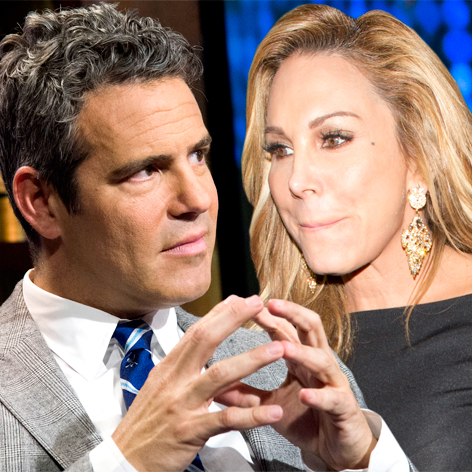 Former Real Housewives of Beverly Hills cast member, Adrienne Maloof, thinks Bravo producer/talk show host, Andy Cohen, is behaving unprofessionally after he publicly slammed her for not appearing on the reunion show, RadarOnline.com is exclusively reporting.
Listen! 'RHOP' star Wendy Osefo breaks down the "most intense fight in the show's history" in under 2 minutes.
"Adrienne isn't shocked by Andy's behavior but she is disappointed by his comments," a source tells RadarOnline.com. "She knew she would have been thrown to the wolves though if she had gone to the taping, and quite frankly she is through with dealing with all the non stop drama and verbal assaults. Brandi and Lisa were both telling producers before the taping that they were looking forward to pouncing on Adrienne. She heard about it and decided there was no way she was going to let those b****es come after her like that."
Article continues below advertisement
As previously reported, during the reunion show, Cohen addressed Maloof's absence — and it was evident from his snippy comments that he was NOT happy about it.
"Well, today we are missing one of the Housewives who's been with us since the beginning. Adrienne Maloof has decided not to participate today," he said.
"This season was hard on Adrienne, as you all know. A secret about her family was revealed by Brandi. And from that moment on, Adrienne refused to speak directly about it. We know that frustrated you in the audience. It frustrated all of us too. Adrienne won't be here to tell her side of the story. Not only is she absent tonight, but she won't be on the show next season.
Then, after an appropriately dramatic pause, Cohen finished: "Adrienne Maloof's final act as a Housewife was NOT showing up tonight."
Oh SNAP!
RadarOnline.com was first to report the news that Maloof, 51, was hanging up her Real Housewives spurs, and would not attending the taping - which happened March 1.
Meanwhile, Adrienne is making the most of her (drama-free) time away from the RHOBH - but hasn't ruled out a return to reality TV in the future - though next time it will likely be with a decidedly less bitchy cast!
"Adrienne is focusing on the positives in her life right now," the source says. "She is dedicated to her three sons and is having a blast with boyfriend, Sean Stewart. Adrienne has been approached to do another reality show about her family business Adrienne and her brothers own the Palms Casino in Las Vegas -- but, if she does decide to go back to reality TV she will be a lot more cautious next time -- she will insist on having an executive producer role so she can control how it's done."