Exclusive
Watch Out Brandi! Glanville's Arch Nemesis LeAnn Rimes Is Being Hotly Pursued To Join Beverly Hills Housewives!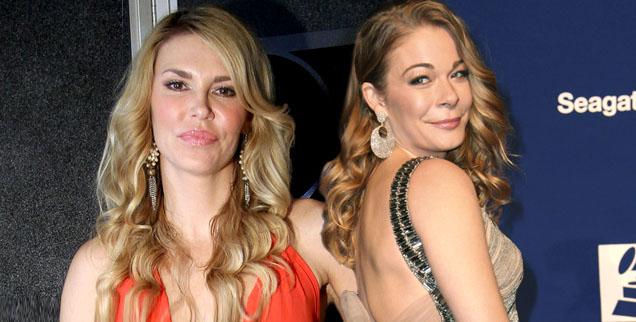 There's no doubting this would make for EXPLOSIVE drama!
Producers of Bravo's The Real Housewives of Beverly Hills are pulling out all the stops in their bid to spice things up in the 90210, and a surefire way to achieve that aim is their plan to lure Brandi Glanville's arch nemesis, LeAnn Rimes onto the hit show, RadarOnline.com is exclusively reporting.
"Producers have approached LeAnn multiple times about joining the cast and have been pursuing her even harder in recent weeks," a source tells Radar. "Viewers are fascinated by Brandi, how she's dealt with her marriage being broken up by LeAnn, and the pain that continues to cause her and her family.
Article continues below advertisement
"Executives at Bravo have told LeAnn that appearing on the show would be a great opportunity for her to get her side of the story out and no longer be seen in a negative light. However, she has continued to shut the offers down, claiming she doesn't want the added drama in her life, that she has a flourishing music career, and that she just doesn't need to do a reality television show."
Meanwhile, as RadarOnline.com exclusively reported, a significant number of the existing Beverly Hills cast are facing the ax from the show as producers put their current hiring and firing plans into action.
"The only cast members guaranteed to come back for the fourth season are Brandi and Lisa Vanderpump," a show insider previously told Radar.
"It's no secret that Adrienne Maloof and Taylor Armstrong were already on the outs – but the other ladies, including Paris Hilton's) aunts, Kim and Kyle Richards, and Yolanda Foster are also on the chopping block."
Do you think LeAnn Rimes should join the cast? Leave your comments below!