Gay Sex Meetings At A Vatican Beauty Salon! Did Bombshell Report Cause Pope Benedict To Resign?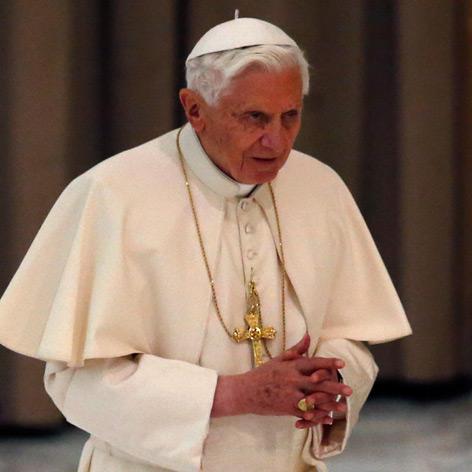 The Vatican on Saturday slammed explosive media reports that Pope Benedict XVI resigned after seeing a bombshell internal report about a gay network and financial misdeeds within the Holy See.
But in the latest shocking development in the sex and money scandal rocking the Catholic church, a spokesman for the Vatican has NOT denied the contents of the report or claim that the report itself doesn't exist.
Article continues below advertisement
The Italian newspaper La Repubblica reported on Friday that the pope asked three cardinals to investigate the Vatican last year after his butler stole confidential papal correspondence. La Repubblica said the investigators uncovered an underground Vatican gay network whose members allegedly organized sexual meetings in various locations, including an Italian villa, a Roman sauna, and a beauty salon inside the Vatican. According to the newspaper, the 300 page dossier concluded the meetings put Vatican officials in compromising positions that could have left them vulnerable to blackmail.
And the scandal has put a new light on the resignation of Pope Benedict XVI, 85, who shocked Catholics around the world when he announced on Feb. 11 that he would step down because of "lack of strength of mind and body." But La Repubblica contends that Benedict decided to step down after receiving the incendiary report on Dec. 17.
Ignazio Ingrao speculated in the weekly Italian magazine Panorama, "the pope was no stranger to the intrigues, but he probably did not know...there was such intricate chains of personal interests and unmentionable relationships" in the Vatican.
Article continues below advertisement
On Saturday, a Vatican spokesman strongly condemned the media coverage of the scandal. Fr. Federico Lombardi told listeners on Vatican Radio, cryptically, "we shall not be following up on the observations that are made about this."
Instead, Lombardi threw stones at reporters, saying, "Those who present themselves as judges, making heavy moral judgments, do not, in truth, have any authority to do so. Those who consider money, sex and power before all else and are used to reading diverse realities from these perspectives, are unable to see anything else."
But Catholics were shocked that Benedict became the first pope in 600 years to resign his office. He will officially leave office on Thursday. A new pope will be elected next month.